Reproduced from: https://www.cnblogs.com/qlqwjy/p/8231032.html
First: Packing with pom.xml files.
Right-click the pom.xml file and select Debug as or Run as. But you need to choose Maven install to pack

After successful execution, the log prints out the location (see if you configure the log output). If there is no output, in the default C D. m2 folder

The second way: right-click items. Select Debug as or Run as. But this is the time to choose Debug configurations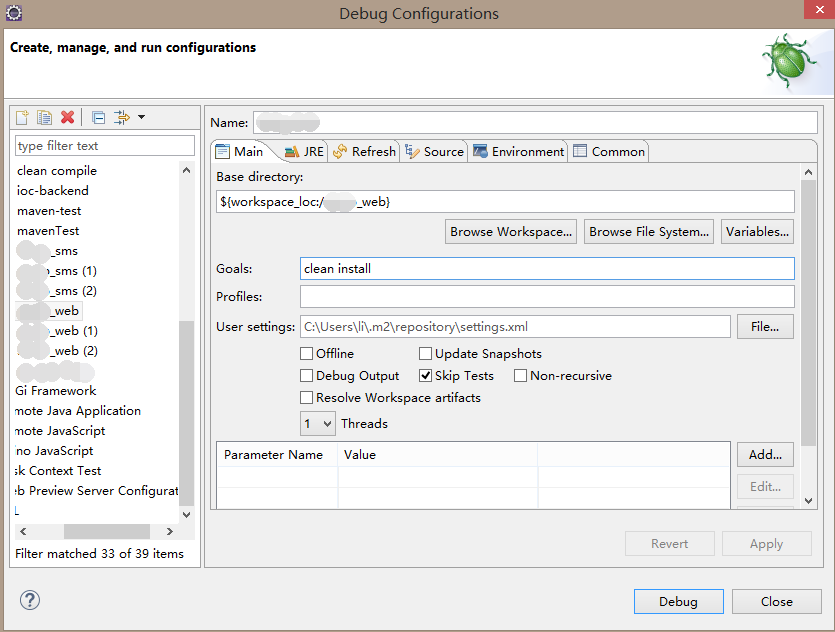 Browse Workspace chooses the items that need to be packaged, and then enters the clean install command in Goals: After Debug executes, it generates dozens of war packages in the target directory.
Third: Right-click the item Export directly, and then select WAR file (recommended)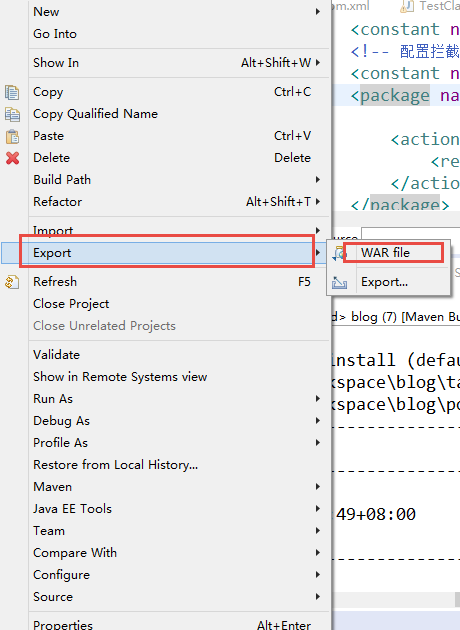 Fourth, use the mvn package command: (in eclipse, just use package, or clean package is recommended)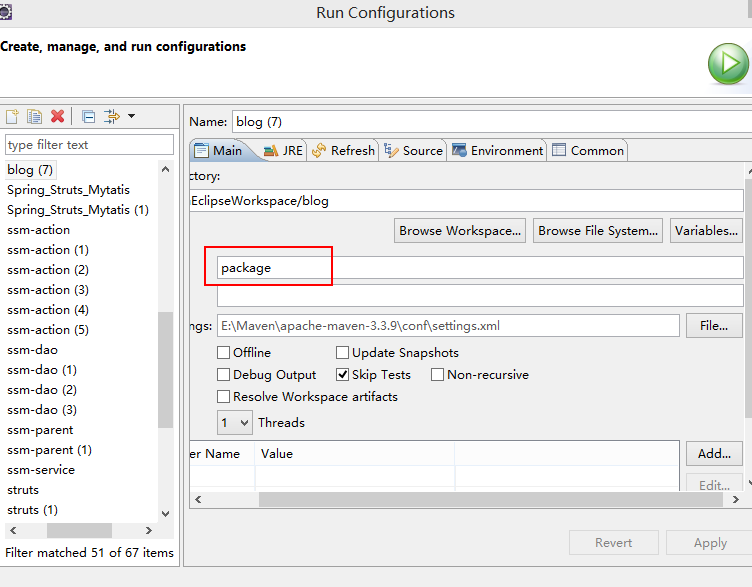 The difference between mvn compile and mvn install and mvn deploy
mvn compile, compile class files
mvn install, containing mvn compile, mvn package, and then uploaded to the local warehouse
mvn deploy, including mvn install, and then upload to private service
After typing out the war package, it can be deployed directly to tomcat to run. Similar to normal project deployment.
Fifth: maven plug-ins
In pom.xml:

            <! - Tomcat plug-in - >
            <plugin>
                <groupId>org.apache.tomcat.maven</groupId>
                <artifactId>tomcat7-maven-plugin</artifactId>
                <version>2.2</version>
                <configuration>
                    <port>80</port>
                    <path>/SSM</path>
                </configuration>
            </plugin>

run as :
  tomcat7:exec-war
Or
  tomcat7:exec-war-only
Sixth: Use maven's war command:
war:exploded. Packing a project directly into a decompressed directory structure of war packages is similar to packaging and decompressing war
Or: war:war directly packages the project into war packages.
Attach a complete pom.xml file:

<project xmlns="http://maven.apache.org/POM/4.0.0" xmlns:xsi="http://www.w3.org/2001/XMLSchema-instance"
    xsi:schemaLocation="http://maven.apache.org/POM/4.0.0 http://maven.apache.org/xsd/maven-4.0.0.xsd">
    <modelVersion>4.0.0</modelVersion>
    <groupId>MavenDemo</groupId>
    <artifactId>MavenDemo</artifactId>
    <version>0.0.1-SNAPSHOT</version>
    <packaging>war</packaging>
    <name />
    <description />


<span style="color: #008000;">&lt;!--</span><span style="color: #008000;"> Declare variables, using the following el EXPRESSION EXTRACTION </span><span style="color: #008000;">--&gt;</span>
<span style="color: #0000ff;">&lt;</span><span style="color: #800000;">properties</span><span style="color: #0000ff;">&gt;</span>
    <span style="color: #0000ff;">&lt;</span><span style="color: #800000;">project.build.sourceEncoding</span><span style="color: #0000ff;">&gt;</span>UTF-8<span style="color: #0000ff;">&lt;/</span><span style="color: #800000;">project.build.sourceEncoding</span><span style="color: #0000ff;">&gt;</span>

    <span style="color: #0000ff;">&lt;</span><span style="color: #800000;">struts.version</span><span style="color: #0000ff;">&gt;</span>2.3.24.1<span style="color: #0000ff;">&lt;/</span><span style="color: #800000;">struts.version</span><span style="color: #0000ff;">&gt;</span>
    <span style="color: #0000ff;">&lt;</span><span style="color: #800000;">struts.javassist.version</span><span style="color: #0000ff;">&gt;</span>3.12.1.GA<span style="color: #0000ff;">&lt;/</span><span style="color: #800000;">struts.javassist.version</span><span style="color: #0000ff;">&gt;</span>
    <span style="color: #0000ff;">&lt;</span><span style="color: #800000;">spring.version</span><span style="color: #0000ff;">&gt;</span>4.2.4.RELEASE<span style="color: #0000ff;">&lt;/</span><span style="color: #800000;">spring.version</span><span style="color: #0000ff;">&gt;</span>
    <span style="color: #0000ff;">&lt;</span><span style="color: #800000;">mybatis.version</span><span style="color: #0000ff;">&gt;</span>3.2.2<span style="color: #0000ff;">&lt;/</span><span style="color: #800000;">mybatis.version</span><span style="color: #0000ff;">&gt;</span>
    <span style="color: #0000ff;">&lt;</span><span style="color: #800000;">mybatis.spring.version</span><span style="color: #0000ff;">&gt;</span>1.2.1<span style="color: #0000ff;">&lt;/</span><span style="color: #800000;">mybatis.spring.version</span><span style="color: #0000ff;">&gt;</span>
    <span style="color: #0000ff;">&lt;</span><span style="color: #800000;">mysql.version</span><span style="color: #0000ff;">&gt;</span>5.1.37<span style="color: #0000ff;">&lt;/</span><span style="color: #800000;">mysql.version</span><span style="color: #0000ff;">&gt;</span>
    <span style="color: #0000ff;">&lt;</span><span style="color: #800000;">slf4j.version</span><span style="color: #0000ff;">&gt;</span>1.7.5<span style="color: #0000ff;">&lt;/</span><span style="color: #800000;">slf4j.version</span><span style="color: #0000ff;">&gt;</span>
    <span style="color: #0000ff;">&lt;</span><span style="color: #800000;">aspectj.version</span><span style="color: #0000ff;">&gt;</span>1.6.10<span style="color: #0000ff;">&lt;/</span><span style="color: #800000;">aspectj.version</span><span style="color: #0000ff;">&gt;</span>
<span style="color: #0000ff;">&lt;/</span><span style="color: #800000;">properties</span><span style="color: #0000ff;">&gt;</span>
<span style="color: #0000ff;">&lt;</span><span style="color: #800000;">dependencies</span><span style="color: #0000ff;">&gt;</span>

    <span style="color: #008000;">&lt;!--</span><span style="color: #008000;"> struts2 Dependency packages </span><span style="color: #008000;">--&gt;</span>
    <span style="color: #0000ff;">&lt;</span><span style="color: #800000;">dependency</span><span style="color: #0000ff;">&gt;</span>
        <span style="color: #0000ff;">&lt;</span><span style="color: #800000;">groupId</span><span style="color: #0000ff;">&gt;</span>org.apache.struts<span style="color: #0000ff;">&lt;/</span><span style="color: #800000;">groupId</span><span style="color: #0000ff;">&gt;</span>
        <span style="color: #0000ff;">&lt;</span><span style="color: #800000;">artifactId</span><span style="color: #0000ff;">&gt;</span>struts2-core<span style="color: #0000ff;">&lt;/</span><span style="color: #800000;">artifactId</span><span style="color: #0000ff;">&gt;</span>
        <span style="color: #0000ff;">&lt;</span><span style="color: #800000;">version</span><span style="color: #0000ff;">&gt;</span>${struts.version}<span style="color: #0000ff;">&lt;/</span><span style="color: #800000;">version</span><span style="color: #0000ff;">&gt;</span>
    <span style="color: #0000ff;">&lt;/</span><span style="color: #800000;">dependency</span><span style="color: #0000ff;">&gt;</span>
    <span style="color: #0000ff;">&lt;</span><span style="color: #800000;">dependency</span><span style="color: #0000ff;">&gt;</span>
        <span style="color: #0000ff;">&lt;</span><span style="color: #800000;">groupId</span><span style="color: #0000ff;">&gt;</span>javassist<span style="color: #0000ff;">&lt;/</span><span style="color: #800000;">groupId</span><span style="color: #0000ff;">&gt;</span>
        <span style="color: #0000ff;">&lt;</span><span style="color: #800000;">artifactId</span><span style="color: #0000ff;">&gt;</span>javassist<span style="color: #0000ff;">&lt;/</span><span style="color: #800000;">artifactId</span><span style="color: #0000ff;">&gt;</span>
        <span style="color: #0000ff;">&lt;</span><span style="color: #800000;">version</span><span style="color: #0000ff;">&gt;</span>${struts.javassist.version}<span style="color: #0000ff;">&lt;/</span><span style="color: #800000;">version</span><span style="color: #0000ff;">&gt;</span>
    <span style="color: #0000ff;">&lt;/</span><span style="color: #800000;">dependency</span><span style="color: #0000ff;">&gt;</span>
    <span style="color: #0000ff;">&lt;</span><span style="color: #800000;">dependency</span><span style="color: #0000ff;">&gt;</span>
        <span style="color: #0000ff;">&lt;</span><span style="color: #800000;">groupId</span><span style="color: #0000ff;">&gt;</span>org.apache.struts<span style="color: #0000ff;">&lt;/</span><span style="color: #800000;">groupId</span><span style="color: #0000ff;">&gt;</span>
        <span style="color: #0000ff;">&lt;</span><span style="color: #800000;">artifactId</span><span style="color: #0000ff;">&gt;</span>struts2-spring-plugin<span style="color: #0000ff;">&lt;/</span><span style="color: #800000;">artifactId</span><span style="color: #0000ff;">&gt;</span>
        <span style="color: #0000ff;">&lt;</span><span style="color: #800000;">version</span><span style="color: #0000ff;">&gt;</span>${struts.version}<span style="color: #0000ff;">&lt;/</span><span style="color: #800000;">version</span><span style="color: #0000ff;">&gt;</span>
    <span style="color: #0000ff;">&lt;/</span><span style="color: #800000;">dependency</span><span style="color: #0000ff;">&gt;</span>

    <span style="color: #008000;">&lt;!--</span><span style="color: #008000;"> spring Dependency packages </span><span style="color: #008000;">--&gt;</span>
    <span style="color: #0000ff;">&lt;</span><span style="color: #800000;">dependency</span><span style="color: #0000ff;">&gt;</span>
        <span style="color: #0000ff;">&lt;</span><span style="color: #800000;">groupId</span><span style="color: #0000ff;">&gt;</span>org.springframework<span style="color: #0000ff;">&lt;/</span><span style="color: #800000;">groupId</span><span style="color: #0000ff;">&gt;</span>
        <span style="color: #0000ff;">&lt;</span><span style="color: #800000;">artifactId</span><span style="color: #0000ff;">&gt;</span>spring-core<span style="color: #0000ff;">&lt;/</span><span style="color: #800000;">artifactId</span><span style="color: #0000ff;">&gt;</span>
        <span style="color: #0000ff;">&lt;</span><span style="color: #800000;">version</span><span style="color: #0000ff;">&gt;</span>${spring.version}<span style="color: #0000ff;">&lt;/</span><span style="color: #800000;">version</span><span style="color: #0000ff;">&gt;</span>
    <span style="color: #0000ff;">&lt;/</span><span style="color: #800000;">dependency</span><span style="color: #0000ff;">&gt;</span>
    <span style="color: #0000ff;">&lt;</span><span style="color: #800000;">dependency</span><span style="color: #0000ff;">&gt;</span>
        <span style="color: #0000ff;">&lt;</span><span style="color: #800000;">groupId</span><span style="color: #0000ff;">&gt;</span>org.springframework<span style="color: #0000ff;">&lt;/</span><span style="color: #800000;">groupId</span><span style="color: #0000ff;">&gt;</span>
        <span style="color: #0000ff;">&lt;</span><span style="color: #800000;">artifactId</span><span style="color: #0000ff;">&gt;</span>spring-aop<span style="color: #0000ff;">&lt;/</span><span style="color: #800000;">artifactId</span><span style="color: #0000ff;">&gt;</span>
        <span style="color: #0000ff;">&lt;</span><span style="color: #800000;">version</span><span style="color: #0000ff;">&gt;</span>${spring.version}<span style="color: #0000ff;">&lt;/</span><span style="color: #800000;">version</span><span style="color: #0000ff;">&gt;</span>
    <span style="color: #0000ff;">&lt;/</span><span style="color: #800000;">dependency</span><span style="color: #0000ff;">&gt;</span>
    <span style="color: #0000ff;">&lt;</span><span style="color: #800000;">dependency</span><span style="color: #0000ff;">&gt;</span>
        <span style="color: #0000ff;">&lt;</span><span style="color: #800000;">groupId</span><span style="color: #0000ff;">&gt;</span>org.springframework<span style="color: #0000ff;">&lt;/</span><span style="color: #800000;">groupId</span><span style="color: #0000ff;">&gt;</span>
        <span style="color: #0000ff;">&lt;</span><span style="color: #800000;">artifactId</span><span style="color: #0000ff;">&gt;</span>spring-test<span style="color: #0000ff;">&lt;/</span><span style="color: #800000;">artifactId</span><span style="color: #0000ff;">&gt;</span>
        <span style="color: #0000ff;">&lt;</span><span style="color: #800000;">version</span><span style="color: #0000ff;">&gt;</span>${spring.version}<span style="color: #0000ff;">&lt;/</span><span style="color: #800000;">version</span><span style="color: #0000ff;">&gt;</span>
    <span style="color: #0000ff;">&lt;/</span><span style="color: #800000;">dependency</span><span style="color: #0000ff;">&gt;</span>
    <span style="color: #008000;">&lt;!--</span><span style="color: #008000;"> &lt;dependency&gt; &lt;groupId&gt;org.springframework&lt;/groupId&gt; &lt;artifactId&gt;spring-tx&lt;/artifactId&gt; 
        &lt;version&gt;${spring.version}&lt;/version&gt; &lt;/dependency&gt; </span><span style="color: #008000;">--&gt;</span>
    <span style="color: #0000ff;">&lt;</span><span style="color: #800000;">dependency</span><span style="color: #0000ff;">&gt;</span>
        <span style="color: #0000ff;">&lt;</span><span style="color: #800000;">groupId</span><span style="color: #0000ff;">&gt;</span>org.springframework<span style="color: #0000ff;">&lt;/</span><span style="color: #800000;">groupId</span><span style="color: #0000ff;">&gt;</span>
        <span style="color: #0000ff;">&lt;</span><span style="color: #800000;">artifactId</span><span style="color: #0000ff;">&gt;</span>spring-beans<span style="color: #0000ff;">&lt;/</span><span style="color: #800000;">artifactId</span><span style="color: #0000ff;">&gt;</span>
        <span style="color: #0000ff;">&lt;</span><span style="color: #800000;">version</span><span style="color: #0000ff;">&gt;</span>${spring.version}<span style="color: #0000ff;">&lt;/</span><span style="color: #800000;">version</span><span style="color: #0000ff;">&gt;</span>
    <span style="color: #0000ff;">&lt;/</span><span style="color: #800000;">dependency</span><span style="color: #0000ff;">&gt;</span>
    <span style="color: #0000ff;">&lt;</span><span style="color: #800000;">dependency</span><span style="color: #0000ff;">&gt;</span>
        <span style="color: #0000ff;">&lt;</span><span style="color: #800000;">groupId</span><span style="color: #0000ff;">&gt;</span>org.springframework<span style="color: #0000ff;">&lt;/</span><span style="color: #800000;">groupId</span><span style="color: #0000ff;">&gt;</span>
        <span style="color: #0000ff;">&lt;</span><span style="color: #800000;">artifactId</span><span style="color: #0000ff;">&gt;</span>spring-context<span style="color: #0000ff;">&lt;/</span><span style="color: #800000;">artifactId</span><span style="color: #0000ff;">&gt;</span>
        <span style="color: #0000ff;">&lt;</span><span style="color: #800000;">version</span><span style="color: #0000ff;">&gt;</span>${spring.version}<span style="color: #0000ff;">&lt;/</span><span style="color: #800000;">version</span><span style="color: #0000ff;">&gt;</span>
    <span style="color: #0000ff;">&lt;/</span><span style="color: #800000;">dependency</span><span style="color: #0000ff;">&gt;</span>
    <span style="color: #0000ff;">&lt;</span><span style="color: #800000;">dependency</span><span style="color: #0000ff;">&gt;</span>
        <span style="color: #0000ff;">&lt;</span><span style="color: #800000;">groupId</span><span style="color: #0000ff;">&gt;</span>org.springframework<span style="color: #0000ff;">&lt;/</span><span style="color: #800000;">groupId</span><span style="color: #0000ff;">&gt;</span>
        <span style="color: #0000ff;">&lt;</span><span style="color: #800000;">artifactId</span><span style="color: #0000ff;">&gt;</span>spring-aspects<span style="color: #0000ff;">&lt;/</span><span style="color: #800000;">artifactId</span><span style="color: #0000ff;">&gt;</span>
        <span style="color: #0000ff;">&lt;</span><span style="color: #800000;">version</span><span style="color: #0000ff;">&gt;</span>${spring.version}<span style="color: #0000ff;">&lt;/</span><span style="color: #800000;">version</span><span style="color: #0000ff;">&gt;</span>
    <span style="color: #0000ff;">&lt;/</span><span style="color: #800000;">dependency</span><span style="color: #0000ff;">&gt;</span>
    <span style="color: #0000ff;">&lt;</span><span style="color: #800000;">dependency</span><span style="color: #0000ff;">&gt;</span>
        <span style="color: #0000ff;">&lt;</span><span style="color: #800000;">groupId</span><span style="color: #0000ff;">&gt;</span>org.springframework<span style="color: #0000ff;">&lt;/</span><span style="color: #800000;">groupId</span><span style="color: #0000ff;">&gt;</span>
        <span style="color: #0000ff;">&lt;</span><span style="color: #800000;">artifactId</span><span style="color: #0000ff;">&gt;</span>spring-orm<span style="color: #0000ff;">&lt;/</span><span style="color: #800000;">artifactId</span><span style="color: #0000ff;">&gt;</span>
        <span style="color: #0000ff;">&lt;</span><span style="color: #800000;">version</span><span style="color: #0000ff;">&gt;</span>${spring.version}<span style="color: #0000ff;">&lt;/</span><span style="color: #800000;">version</span><span style="color: #0000ff;">&gt;</span>
    <span style="color: #0000ff;">&lt;/</span><span style="color: #800000;">dependency</span><span style="color: #0000ff;">&gt;</span>
    <span style="color: #0000ff;">&lt;</span><span style="color: #800000;">dependency</span><span style="color: #0000ff;">&gt;</span>
        <span style="color: #0000ff;">&lt;</span><span style="color: #800000;">groupId</span><span style="color: #0000ff;">&gt;</span>org.springframework<span style="color: #0000ff;">&lt;/</span><span style="color: #800000;">groupId</span><span style="color: #0000ff;">&gt;</span>
        <span style="color: #0000ff;">&lt;</span><span style="color: #800000;">artifactId</span><span style="color: #0000ff;">&gt;</span>spring-oxm<span style="color: #0000ff;">&lt;/</span><span style="color: #800000;">artifactId</span><span style="color: #0000ff;">&gt;</span>
        <span style="color: #0000ff;">&lt;</span><span style="color: #800000;">version</span><span style="color: #0000ff;">&gt;</span>${spring.version}<span style="color: #0000ff;">&lt;/</span><span style="color: #800000;">version</span><span style="color: #0000ff;">&gt;</span>
    <span style="color: #0000ff;">&lt;/</span><span style="color: #800000;">dependency</span><span style="color: #0000ff;">&gt;</span>
    <span style="color: #0000ff;">&lt;</span><span style="color: #800000;">dependency</span><span style="color: #0000ff;">&gt;</span>
        <span style="color: #0000ff;">&lt;</span><span style="color: #800000;">groupId</span><span style="color: #0000ff;">&gt;</span>org.springframework<span style="color: #0000ff;">&lt;/</span><span style="color: #800000;">groupId</span><span style="color: #0000ff;">&gt;</span>
        <span style="color: #0000ff;">&lt;</span><span style="color: #800000;">artifactId</span><span style="color: #0000ff;">&gt;</span>spring-web<span style="color: #0000ff;">&lt;/</span><span style="color: #800000;">artifactId</span><span style="color: #0000ff;">&gt;</span>
        <span style="color: #0000ff;">&lt;</span><span style="color: #800000;">version</span><span style="color: #0000ff;">&gt;</span>${spring.version}<span style="color: #0000ff;">&lt;/</span><span style="color: #800000;">version</span><span style="color: #0000ff;">&gt;</span>
    <span style="color: #0000ff;">&lt;/</span><span style="color: #800000;">dependency</span><span style="color: #0000ff;">&gt;</span>
    <span style="color: #008000;">&lt;!--</span><span style="color: #008000;"> mybatis Dependency packages </span><span style="color: #008000;">--&gt;</span>
    <span style="color: #0000ff;">&lt;</span><span style="color: #800000;">dependency</span><span style="color: #0000ff;">&gt;</span>
        <span style="color: #0000ff;">&lt;</span><span style="color: #800000;">groupId</span><span style="color: #0000ff;">&gt;</span>org.mybatis<span style="color: #0000ff;">&lt;/</span><span style="color: #800000;">groupId</span><span style="color: #0000ff;">&gt;</span>
        <span style="color: #0000ff;">&lt;</span><span style="color: #800000;">artifactId</span><span style="color: #0000ff;">&gt;</span>mybatis<span style="color: #0000ff;">&lt;/</span><span style="color: #800000;">artifactId</span><span style="color: #0000ff;">&gt;</span>
        <span style="color: #0000ff;">&lt;</span><span style="color: #800000;">version</span><span style="color: #0000ff;">&gt;</span>${mybatis.version}<span style="color: #0000ff;">&lt;/</span><span style="color: #800000;">version</span><span style="color: #0000ff;">&gt;</span>
    <span style="color: #0000ff;">&lt;/</span><span style="color: #800000;">dependency</span><span style="color: #0000ff;">&gt;</span>
    <span style="color: #0000ff;">&lt;</span><span style="color: #800000;">dependency</span><span style="color: #0000ff;">&gt;</span>
        <span style="color: #0000ff;">&lt;</span><span style="color: #800000;">groupId</span><span style="color: #0000ff;">&gt;</span>cglib<span style="color: #0000ff;">&lt;/</span><span style="color: #800000;">groupId</span><span style="color: #0000ff;">&gt;</span>
        <span style="color: #0000ff;">&lt;</span><span style="color: #800000;">artifactId</span><span style="color: #0000ff;">&gt;</span>cglib<span style="color: #0000ff;">&lt;/</span><span style="color: #800000;">artifactId</span><span style="color: #0000ff;">&gt;</span>
        <span style="color: #0000ff;">&lt;</span><span style="color: #800000;">version</span><span style="color: #0000ff;">&gt;</span>2.2.2<span style="color: #0000ff;">&lt;/</span><span style="color: #800000;">version</span><span style="color: #0000ff;">&gt;</span>
    <span style="color: #0000ff;">&lt;/</span><span style="color: #800000;">dependency</span><span style="color: #0000ff;">&gt;</span>
    <span style="color: #0000ff;">&lt;</span><span style="color: #800000;">dependency</span><span style="color: #0000ff;">&gt;</span>
        <span style="color: #0000ff;">&lt;</span><span style="color: #800000;">groupId</span><span style="color: #0000ff;">&gt;</span>org.mybatis<span style="color: #0000ff;">&lt;/</span><span style="color: #800000;">groupId</span><span style="color: #0000ff;">&gt;</span>
        <span style="color: #0000ff;">&lt;</span><span style="color: #800000;">artifactId</span><span style="color: #0000ff;">&gt;</span>mybatis-spring<span style="color: #0000ff;">&lt;/</span><span style="color: #800000;">artifactId</span><span style="color: #0000ff;">&gt;</span>
        <span style="color: #0000ff;">&lt;</span><span style="color: #800000;">version</span><span style="color: #0000ff;">&gt;</span>${mybatis.spring.version}<span style="color: #0000ff;">&lt;/</span><span style="color: #800000;">version</span><span style="color: #0000ff;">&gt;</span>
    <span style="color: #0000ff;">&lt;/</span><span style="color: #800000;">dependency</span><span style="color: #0000ff;">&gt;</span>
    <span style="color: #008000;">&lt;!--</span><span style="color: #008000;"> pageHelper </span><span style="color: #008000;">--&gt;</span>
    <span style="color: #0000ff;">&lt;</span><span style="color: #800000;">dependency</span><span style="color: #0000ff;">&gt;</span>
        <span style="color: #0000ff;">&lt;</span><span style="color: #800000;">groupId</span><span style="color: #0000ff;">&gt;</span>com.github.pagehelper<span style="color: #0000ff;">&lt;/</span><span style="color: #800000;">groupId</span><span style="color: #0000ff;">&gt;</span>
        <span style="color: #0000ff;">&lt;</span><span style="color: #800000;">artifactId</span><span style="color: #0000ff;">&gt;</span>pagehelper<span style="color: #0000ff;">&lt;/</span><span style="color: #800000;">artifactId</span><span style="color: #0000ff;">&gt;</span>
        <span style="color: #0000ff;">&lt;</span><span style="color: #800000;">version</span><span style="color: #0000ff;">&gt;</span>5.1.2<span style="color: #0000ff;">&lt;/</span><span style="color: #800000;">version</span><span style="color: #0000ff;">&gt;</span>
    <span style="color: #0000ff;">&lt;/</span><span style="color: #800000;">dependency</span><span style="color: #0000ff;">&gt;</span>
    <span style="color: #008000;">&lt;!--</span><span style="color: #008000;"> myql Dependency packages </span><span style="color: #008000;">--&gt;</span>
    <span style="color: #0000ff;">&lt;</span><span style="color: #800000;">dependency</span><span style="color: #0000ff;">&gt;</span>
        <span style="color: #0000ff;">&lt;</span><span style="color: #800000;">groupId</span><span style="color: #0000ff;">&gt;</span>mysql<span style="color: #0000ff;">&lt;/</span><span style="color: #800000;">groupId</span><span style="color: #0000ff;">&gt;</span>
        <span style="color: #0000ff;">&lt;</span><span style="color: #800000;">artifactId</span><span style="color: #0000ff;">&gt;</span>mysql-connector-java<span style="color: #0000ff;">&lt;/</span><span style="color: #800000;">artifactId</span><span style="color: #0000ff;">&gt;</span>
        <span style="color: #0000ff;">&lt;</span><span style="color: #800000;">version</span><span style="color: #0000ff;">&gt;</span>${mysql.version}<span style="color: #0000ff;">&lt;/</span><span style="color: #800000;">version</span><span style="color: #0000ff;">&gt;</span>
    <span style="color: #0000ff;">&lt;/</span><span style="color: #800000;">dependency</span><span style="color: #0000ff;">&gt;</span>

    <span style="color: #008000;">&lt;!--</span><span style="color: #008000;"> aspectj Dependency packages </span><span style="color: #008000;">--&gt;</span>

    <span style="color: #0000ff;">&lt;</span><span style="color: #800000;">dependency</span><span style="color: #0000ff;">&gt;</span>
        <span style="color: #0000ff;">&lt;</span><span style="color: #800000;">groupId</span><span style="color: #0000ff;">&gt;</span>org.aspectj<span style="color: #0000ff;">&lt;/</span><span style="color: #800000;">groupId</span><span style="color: #0000ff;">&gt;</span>
        <span style="color: #0000ff;">&lt;</span><span style="color: #800000;">artifactId</span><span style="color: #0000ff;">&gt;</span>aspectjrt<span style="color: #0000ff;">&lt;/</span><span style="color: #800000;">artifactId</span><span style="color: #0000ff;">&gt;</span>
        <span style="color: #0000ff;">&lt;</span><span style="color: #800000;">version</span><span style="color: #0000ff;">&gt;</span>${aspectj.version}<span style="color: #0000ff;">&lt;/</span><span style="color: #800000;">version</span><span style="color: #0000ff;">&gt;</span>
    <span style="color: #0000ff;">&lt;/</span><span style="color: #800000;">dependency</span><span style="color: #0000ff;">&gt;</span>
    <span style="color: #008000;">&lt;!--</span><span style="color: #008000;"> &lt;dependency&gt; &lt;groupId&gt;org.aspectj&lt;/groupId&gt; &lt;artifactId&gt;aspectjweaver&lt;/artifactId&gt; 
        &lt;version&gt;${aspectj.version}&lt;/version&gt; &lt;/dependency&gt; </span><span style="color: #008000;">--&gt;</span>
    <span style="color: #008000;">&lt;!--</span><span style="color: #008000;"> slf4j Dependency packages </span><span style="color: #008000;">--&gt;</span>
    <span style="color: #0000ff;">&lt;</span><span style="color: #800000;">dependency</span><span style="color: #0000ff;">&gt;</span>
        <span style="color: #0000ff;">&lt;</span><span style="color: #800000;">groupId</span><span style="color: #0000ff;">&gt;</span>org.slf4j<span style="color: #0000ff;">&lt;/</span><span style="color: #800000;">groupId</span><span style="color: #0000ff;">&gt;</span>
        <span style="color: #0000ff;">&lt;</span><span style="color: #800000;">artifactId</span><span style="color: #0000ff;">&gt;</span>slf4j-log4j12<span style="color: #0000ff;">&lt;/</span><span style="color: #800000;">artifactId</span><span style="color: #0000ff;">&gt;</span>
        <span style="color: #0000ff;">&lt;</span><span style="color: #800000;">version</span><span style="color: #0000ff;">&gt;</span>${slf4j.version}<span style="color: #0000ff;">&lt;/</span><span style="color: #800000;">version</span><span style="color: #0000ff;">&gt;</span>
    <span style="color: #0000ff;">&lt;/</span><span style="color: #800000;">dependency</span><span style="color: #0000ff;">&gt;</span>
    <span style="color: #008000;">&lt;!--</span><span style="color: #008000;"> test </span><span style="color: #008000;">--&gt;</span>
    <span style="color: #008000;">&lt;!--</span><span style="color: #008000;"> &lt;dependency&gt; &lt;groupId&gt;junit&lt;/groupId&gt; &lt;artifactId&gt;junit&lt;/artifactId&gt; 
        &lt;version&gt;${junit.version}&lt;/version&gt; &lt;/dependency&gt; </span><span style="color: #008000;">--&gt;</span>

    <span style="color: #0000ff;">&lt;</span><span style="color: #800000;">dependency</span><span style="color: #0000ff;">&gt;</span>
        <span style="color: #0000ff;">&lt;</span><span style="color: #800000;">groupId</span><span style="color: #0000ff;">&gt;</span>junit<span style="color: #0000ff;">&lt;/</span><span style="color: #800000;">groupId</span><span style="color: #0000ff;">&gt;</span>
        <span style="color: #0000ff;">&lt;</span><span style="color: #800000;">artifactId</span><span style="color: #0000ff;">&gt;</span>junit<span style="color: #0000ff;">&lt;/</span><span style="color: #800000;">artifactId</span><span style="color: #0000ff;">&gt;</span>
        <span style="color: #0000ff;">&lt;</span><span style="color: #800000;">version</span><span style="color: #0000ff;">&gt;</span>4.9<span style="color: #0000ff;">&lt;/</span><span style="color: #800000;">version</span><span style="color: #0000ff;">&gt;</span>
    <span style="color: #0000ff;">&lt;/</span><span style="color: #800000;">dependency</span><span style="color: #0000ff;">&gt;</span>
    <span style="color: #0000ff;">&lt;</span><span style="color: #800000;">dependency</span><span style="color: #0000ff;">&gt;</span>
        <span style="color: #0000ff;">&lt;</span><span style="color: #800000;">groupId</span><span style="color: #0000ff;">&gt;</span>javax.servlet<span style="color: #0000ff;">&lt;/</span><span style="color: #800000;">groupId</span><span style="color: #0000ff;">&gt;</span>
        <span style="color: #0000ff;">&lt;</span><span style="color: #800000;">artifactId</span><span style="color: #0000ff;">&gt;</span>servlet-api<span style="color: #0000ff;">&lt;/</span><span style="color: #800000;">artifactId</span><span style="color: #0000ff;">&gt;</span>
        <span style="color: #0000ff;">&lt;</span><span style="color: #800000;">version</span><span style="color: #0000ff;">&gt;</span>2.5<span style="color: #0000ff;">&lt;/</span><span style="color: #800000;">version</span><span style="color: #0000ff;">&gt;</span>
        <span style="color: #0000ff;">&lt;</span><span style="color: #800000;">scope</span><span style="color: #0000ff;">&gt;</span>provided<span style="color: #0000ff;">&lt;/</span><span style="color: #800000;">scope</span><span style="color: #0000ff;">&gt;</span>
    <span style="color: #0000ff;">&lt;/</span><span style="color: #800000;">dependency</span><span style="color: #0000ff;">&gt;</span>
    <span style="color: #0000ff;">&lt;</span><span style="color: #800000;">dependency</span><span style="color: #0000ff;">&gt;</span>
        <span style="color: #0000ff;">&lt;</span><span style="color: #800000;">groupId</span><span style="color: #0000ff;">&gt;</span>javax.servlet<span style="color: #0000ff;">&lt;/</span><span style="color: #800000;">groupId</span><span style="color: #0000ff;">&gt;</span>
        <span style="color: #0000ff;">&lt;</span><span style="color: #800000;">artifactId</span><span style="color: #0000ff;">&gt;</span>jsp-api<span style="color: #0000ff;">&lt;/</span><span style="color: #800000;">artifactId</span><span style="color: #0000ff;">&gt;</span>
        <span style="color: #0000ff;">&lt;</span><span style="color: #800000;">version</span><span style="color: #0000ff;">&gt;</span>2.0<span style="color: #0000ff;">&lt;/</span><span style="color: #800000;">version</span><span style="color: #0000ff;">&gt;</span>
        <span style="color: #0000ff;">&lt;</span><span style="color: #800000;">scope</span><span style="color: #0000ff;">&gt;</span>provided<span style="color: #0000ff;">&lt;/</span><span style="color: #800000;">scope</span><span style="color: #0000ff;">&gt;</span>
    <span style="color: #0000ff;">&lt;/</span><span style="color: #800000;">dependency</span><span style="color: #0000ff;">&gt;</span>

    <span style="color: #008000;">&lt;!--</span><span style="color: #008000;"> Database connection pool </span><span style="color: #008000;">--&gt;</span>
    <span style="color: #0000ff;">&lt;</span><span style="color: #800000;">dependency</span><span style="color: #0000ff;">&gt;</span>
        <span style="color: #0000ff;">&lt;</span><span style="color: #800000;">groupId</span><span style="color: #0000ff;">&gt;</span>c3p0<span style="color: #0000ff;">&lt;/</span><span style="color: #800000;">groupId</span><span style="color: #0000ff;">&gt;</span>
        <span style="color: #0000ff;">&lt;</span><span style="color: #800000;">artifactId</span><span style="color: #0000ff;">&gt;</span>c3p0<span style="color: #0000ff;">&lt;/</span><span style="color: #800000;">artifactId</span><span style="color: #0000ff;">&gt;</span>
        <span style="color: #0000ff;">&lt;</span><span style="color: #800000;">version</span><span style="color: #0000ff;">&gt;</span>0.9.1.2<span style="color: #0000ff;">&lt;/</span><span style="color: #800000;">version</span><span style="color: #0000ff;">&gt;</span>
    <span style="color: #0000ff;">&lt;/</span><span style="color: #800000;">dependency</span><span style="color: #0000ff;">&gt;</span>


    <span style="color: #008000;">&lt;!--</span><span style="color: #008000;"> Packet dependency packages added during debugging </span><span style="color: #008000;">--&gt;</span>
    <span style="color: #0000ff;">&lt;</span><span style="color: #800000;">dependency</span><span style="color: #0000ff;">&gt;</span>
        <span style="color: #0000ff;">&lt;</span><span style="color: #800000;">groupId</span><span style="color: #0000ff;">&gt;</span>org.apache.logging.log4j<span style="color: #0000ff;">&lt;/</span><span style="color: #800000;">groupId</span><span style="color: #0000ff;">&gt;</span>
        <span style="color: #0000ff;">&lt;</span><span style="color: #800000;">artifactId</span><span style="color: #0000ff;">&gt;</span>log4j-api<span style="color: #0000ff;">&lt;/</span><span style="color: #800000;">artifactId</span><span style="color: #0000ff;">&gt;</span>
        <span style="color: #0000ff;">&lt;</span><span style="color: #800000;">version</span><span style="color: #0000ff;">&gt;</span>2.0-rc1<span style="color: #0000ff;">&lt;/</span><span style="color: #800000;">version</span><span style="color: #0000ff;">&gt;</span>
    <span style="color: #0000ff;">&lt;/</span><span style="color: #800000;">dependency</span><span style="color: #0000ff;">&gt;</span>

    <span style="color: #0000ff;">&lt;</span><span style="color: #800000;">dependency</span><span style="color: #0000ff;">&gt;</span>
        <span style="color: #0000ff;">&lt;</span><span style="color: #800000;">groupId</span><span style="color: #0000ff;">&gt;</span>org.apache.logging.log4j<span style="color: #0000ff;">&lt;/</span><span style="color: #800000;">groupId</span><span style="color: #0000ff;">&gt;</span>
        <span style="color: #0000ff;">&lt;</span><span style="color: #800000;">artifactId</span><span style="color: #0000ff;">&gt;</span>log4j-core<span style="color: #0000ff;">&lt;/</span><span style="color: #800000;">artifactId</span><span style="color: #0000ff;">&gt;</span>
        <span style="color: #0000ff;">&lt;</span><span style="color: #800000;">version</span><span style="color: #0000ff;">&gt;</span>2.0-rc1<span style="color: #0000ff;">&lt;/</span><span style="color: #800000;">version</span><span style="color: #0000ff;">&gt;</span>
    <span style="color: #0000ff;">&lt;/</span><span style="color: #800000;">dependency</span><span style="color: #0000ff;">&gt;</span>


    <span style="color: #0000ff;">&lt;</span><span style="color: #800000;">dependency</span><span style="color: #0000ff;">&gt;</span>
        <span style="color: #0000ff;">&lt;</span><span style="color: #800000;">groupId</span><span style="color: #0000ff;">&gt;</span>org.aspectj<span style="color: #0000ff;">&lt;/</span><span style="color: #800000;">groupId</span><span style="color: #0000ff;">&gt;</span>
        <span style="color: #0000ff;">&lt;</span><span style="color: #800000;">artifactId</span><span style="color: #0000ff;">&gt;</span>aspectjweaver<span style="color: #0000ff;">&lt;/</span><span style="color: #800000;">artifactId</span><span style="color: #0000ff;">&gt;</span>
        <span style="color: #0000ff;">&lt;</span><span style="color: #800000;">version</span><span style="color: #0000ff;">&gt;</span>1.8.7<span style="color: #0000ff;">&lt;/</span><span style="color: #800000;">version</span><span style="color: #0000ff;">&gt;</span>
    <span style="color: #0000ff;">&lt;/</span><span style="color: #800000;">dependency</span><span style="color: #0000ff;">&gt;</span>
    <span style="color: #0000ff;">&lt;</span><span style="color: #800000;">dependency</span><span style="color: #0000ff;">&gt;</span>
        <span style="color: #0000ff;">&lt;</span><span style="color: #800000;">groupId</span><span style="color: #0000ff;">&gt;</span>org.apache.struts<span style="color: #0000ff;">&lt;/</span><span style="color: #800000;">groupId</span><span style="color: #0000ff;">&gt;</span>
        <span style="color: #0000ff;">&lt;</span><span style="color: #800000;">artifactId</span><span style="color: #0000ff;">&gt;</span>struts2-json-plugin<span style="color: #0000ff;">&lt;/</span><span style="color: #800000;">artifactId</span><span style="color: #0000ff;">&gt;</span>
        <span style="color: #0000ff;">&lt;</span><span style="color: #800000;">version</span><span style="color: #0000ff;">&gt;</span>2.3.32<span style="color: #0000ff;">&lt;/</span><span style="color: #800000;">version</span><span style="color: #0000ff;">&gt;</span>
    <span style="color: #0000ff;">&lt;/</span><span style="color: #800000;">dependency</span><span style="color: #0000ff;">&gt;</span>

    <span style="color: #008000;">&lt;!--</span><span style="color: #008000;"> jedis rely on </span><span style="color: #008000;">--&gt;</span>
    <span style="color: #0000ff;">&lt;</span><span style="color: #800000;">dependency</span><span style="color: #0000ff;">&gt;</span>
        <span style="color: #0000ff;">&lt;</span><span style="color: #800000;">groupId</span><span style="color: #0000ff;">&gt;</span>redis.clients<span style="color: #0000ff;">&lt;/</span><span style="color: #800000;">groupId</span><span style="color: #0000ff;">&gt;</span>
        <span style="color: #0000ff;">&lt;</span><span style="color: #800000;">artifactId</span><span style="color: #0000ff;">&gt;</span>jedis<span style="color: #0000ff;">&lt;/</span><span style="color: #800000;">artifactId</span><span style="color: #0000ff;">&gt;</span>
        <span style="color: #0000ff;">&lt;</span><span style="color: #800000;">version</span><span style="color: #0000ff;">&gt;</span>2.9.0<span style="color: #0000ff;">&lt;/</span><span style="color: #800000;">version</span><span style="color: #0000ff;">&gt;</span>
    <span style="color: #0000ff;">&lt;/</span><span style="color: #800000;">dependency</span><span style="color: #0000ff;">&gt;</span>
    <span style="color: #0000ff;">&lt;</span><span style="color: #800000;">dependency</span><span style="color: #0000ff;">&gt;</span>
        <span style="color: #0000ff;">&lt;</span><span style="color: #800000;">groupId</span><span style="color: #0000ff;">&gt;</span>org.springframework.data<span style="color: #0000ff;">&lt;/</span><span style="color: #800000;">groupId</span><span style="color: #0000ff;">&gt;</span>
        <span style="color: #0000ff;">&lt;</span><span style="color: #800000;">artifactId</span><span style="color: #0000ff;">&gt;</span>spring-data-redis<span style="color: #0000ff;">&lt;/</span><span style="color: #800000;">artifactId</span><span style="color: #0000ff;">&gt;</span>
        <span style="color: #0000ff;">&lt;</span><span style="color: #800000;">version</span><span style="color: #0000ff;">&gt;</span>1.8.7.RELEASE<span style="color: #0000ff;">&lt;/</span><span style="color: #800000;">version</span><span style="color: #0000ff;">&gt;</span>
    <span style="color: #0000ff;">&lt;/</span><span style="color: #800000;">dependency</span><span style="color: #0000ff;">&gt;</span>
    <span style="color: #008000;">&lt;!--</span><span style="color: #008000;"> jackson </span><span style="color: #008000;">--&gt;</span>
    <span style="color: #0000ff;">&lt;</span><span style="color: #800000;">dependency</span><span style="color: #0000ff;">&gt;</span>
        <span style="color: #0000ff;">&lt;</span><span style="color: #800000;">groupId</span><span style="color: #0000ff;">&gt;</span>com.fasterxml.jackson.core<span style="color: #0000ff;">&lt;/</span><span style="color: #800000;">groupId</span><span style="color: #0000ff;">&gt;</span>
        <span style="color: #0000ff;">&lt;</span><span style="color: #800000;">artifactId</span><span style="color: #0000ff;">&gt;</span>jackson-core<span style="color: #0000ff;">&lt;/</span><span style="color: #800000;">artifactId</span><span style="color: #0000ff;">&gt;</span>
        <span style="color: #0000ff;">&lt;</span><span style="color: #800000;">version</span><span style="color: #0000ff;">&gt;</span>2.1.0<span style="color: #0000ff;">&lt;/</span><span style="color: #800000;">version</span><span style="color: #0000ff;">&gt;</span>
    <span style="color: #0000ff;">&lt;/</span><span style="color: #800000;">dependency</span><span style="color: #0000ff;">&gt;</span>
    <span style="color: #0000ff;">&lt;</span><span style="color: #800000;">dependency</span><span style="color: #0000ff;">&gt;</span>
        <span style="color: #0000ff;">&lt;</span><span style="color: #800000;">groupId</span><span style="color: #0000ff;">&gt;</span>com.fasterxml.jackson.core<span style="color: #0000ff;">&lt;/</span><span style="color: #800000;">groupId</span><span style="color: #0000ff;">&gt;</span>
        <span style="color: #0000ff;">&lt;</span><span style="color: #800000;">artifactId</span><span style="color: #0000ff;">&gt;</span>jackson-databind<span style="color: #0000ff;">&lt;/</span><span style="color: #800000;">artifactId</span><span style="color: #0000ff;">&gt;</span>
        <span style="color: #0000ff;">&lt;</span><span style="color: #800000;">version</span><span style="color: #0000ff;">&gt;</span>2.1.0<span style="color: #0000ff;">&lt;/</span><span style="color: #800000;">version</span><span style="color: #0000ff;">&gt;</span>
    <span style="color: #0000ff;">&lt;/</span><span style="color: #800000;">dependency</span><span style="color: #0000ff;">&gt;</span>
    <span style="color: #0000ff;">&lt;</span><span style="color: #800000;">dependency</span><span style="color: #0000ff;">&gt;</span>
        <span style="color: #0000ff;">&lt;</span><span style="color: #800000;">groupId</span><span style="color: #0000ff;">&gt;</span>com.fasterxml.jackson.core<span style="color: #0000ff;">&lt;/</span><span style="color: #800000;">groupId</span><span style="color: #0000ff;">&gt;</span>
        <span style="color: #0000ff;">&lt;</span><span style="color: #800000;">artifactId</span><span style="color: #0000ff;">&gt;</span>jackson-annotations<span style="color: #0000ff;">&lt;/</span><span style="color: #800000;">artifactId</span><span style="color: #0000ff;">&gt;</span>
        <span style="color: #0000ff;">&lt;</span><span style="color: #800000;">version</span><span style="color: #0000ff;">&gt;</span>2.1.0<span style="color: #0000ff;">&lt;/</span><span style="color: #800000;">version</span><span style="color: #0000ff;">&gt;</span>
    <span style="color: #0000ff;">&lt;/</span><span style="color: #800000;">dependency</span><span style="color: #0000ff;">&gt;</span>
<span style="color: #0000ff;">&lt;/</span><span style="color: #800000;">dependencies</span><span style="color: #0000ff;">&gt;</span>

<span style="color: #0000ff;">&lt;</span><span style="color: #800000;">build</span><span style="color: #0000ff;">&gt;</span>
    <span style="color: #008000;">&lt;!--</span><span style="color: #008000;"> Many plug-ins are configured </span><span style="color: #008000;">--&gt;</span>
    <span style="color: #0000ff;">&lt;</span><span style="color: #800000;">plugins</span><span style="color: #0000ff;">&gt;</span>

        <span style="color: #008000;">&lt;!--</span><span style="color: #008000;"> Compiler plug-in </span><span style="color: #008000;">--&gt;</span>
        <span style="color: #0000ff;">&lt;</span><span style="color: #800000;">plugin</span><span style="color: #0000ff;">&gt;</span>
            <span style="color: #0000ff;">&lt;</span><span style="color: #800000;">groupId</span><span style="color: #0000ff;">&gt;</span>org.apache.maven.plugins<span style="color: #0000ff;">&lt;/</span><span style="color: #800000;">groupId</span><span style="color: #0000ff;">&gt;</span>
            <span style="color: #0000ff;">&lt;</span><span style="color: #800000;">artifactId</span><span style="color: #0000ff;">&gt;</span>maven-compiler-plugin<span style="color: #0000ff;">&lt;/</span><span style="color: #800000;">artifactId</span><span style="color: #0000ff;">&gt;</span>
            <span style="color: #0000ff;">&lt;</span><span style="color: #800000;">version</span><span style="color: #0000ff;">&gt;</span>3.5.1<span style="color: #0000ff;">&lt;/</span><span style="color: #800000;">version</span><span style="color: #0000ff;">&gt;</span>
            <span style="color: #0000ff;">&lt;</span><span style="color: #800000;">configuration</span><span style="color: #0000ff;">&gt;</span>
                <span style="color: #0000ff;">&lt;</span><span style="color: #800000;">source</span><span style="color: #0000ff;">&gt;</span>1.7<span style="color: #0000ff;">&lt;/</span><span style="color: #800000;">source</span><span style="color: #0000ff;">&gt;</span>
                <span style="color: #0000ff;">&lt;</span><span style="color: #800000;">target</span><span style="color: #0000ff;">&gt;</span>1.7<span style="color: #0000ff;">&lt;/</span><span style="color: #800000;">target</span><span style="color: #0000ff;">&gt;</span>
                <span style="color: #0000ff;">&lt;</span><span style="color: #800000;">encoding</span><span style="color: #0000ff;">&gt;</span>UTF-8<span style="color: #0000ff;">&lt;/</span><span style="color: #800000;">encoding</span><span style="color: #0000ff;">&gt;</span>
            <span style="color: #0000ff;">&lt;/</span><span style="color: #800000;">configuration</span><span style="color: #0000ff;">&gt;</span>
        <span style="color: #0000ff;">&lt;/</span><span style="color: #800000;">plugin</span><span style="color: #0000ff;">&gt;</span>

        <span style="color: #008000;">&lt;!--</span><span style="color: #008000;"> tomcat Plug-in unit </span><span style="color: #008000;">--&gt;</span>
        <span style="color: #0000ff;">&lt;</span><span style="color: #800000;">plugin</span><span style="color: #0000ff;">&gt;</span>
            <span style="color: #0000ff;">&lt;</span><span style="color: #800000;">groupId</span><span style="color: #0000ff;">&gt;</span>org.apache.tomcat.maven<span style="color: #0000ff;">&lt;/</span><span style="color: #800000;">groupId</span><span style="color: #0000ff;">&gt;</span>
            <span style="color: #0000ff;">&lt;</span><span style="color: #800000;">artifactId</span><span style="color: #0000ff;">&gt;</span>tomcat7-maven-plugin<span style="color: #0000ff;">&lt;/</span><span style="color: #800000;">artifactId</span><span style="color: #0000ff;">&gt;</span>
            <span style="color: #0000ff;">&lt;</span><span style="color: #800000;">version</span><span style="color: #0000ff;">&gt;</span>2.2<span style="color: #0000ff;">&lt;/</span><span style="color: #800000;">version</span><span style="color: #0000ff;">&gt;</span>
            <span style="color: #0000ff;">&lt;</span><span style="color: #800000;">configuration</span><span style="color: #0000ff;">&gt;</span>
                <span style="color: #0000ff;">&lt;</span><span style="color: #800000;">port</span><span style="color: #0000ff;">&gt;</span>80<span style="color: #0000ff;">&lt;/</span><span style="color: #800000;">port</span><span style="color: #0000ff;">&gt;</span>
                <span style="color: #0000ff;">&lt;</span><span style="color: #800000;">path</span><span style="color: #0000ff;">&gt;</span>/SSM<span style="color: #0000ff;">&lt;/</span><span style="color: #800000;">path</span><span style="color: #0000ff;">&gt;</span>
            <span style="color: #0000ff;">&lt;/</span><span style="color: #800000;">configuration</span><span style="color: #0000ff;">&gt;</span>
        <span style="color: #0000ff;">&lt;/</span><span style="color: #800000;">plugin</span><span style="color: #0000ff;">&gt;</span>
    <span style="color: #0000ff;">&lt;/</span><span style="color: #800000;">plugins</span><span style="color: #0000ff;">&gt;</span>
<span style="color: #0000ff;">&lt;/</span><span style="color: #800000;">build</span><span style="color: #0000ff;">&gt;</span>




</project>

Reference resources: http://blog.csdn.net/silk_java/article/details/45093239