catalogue
2, Workspaces and feature packs
3, Programming implementation of publisher
4, Programming implementation of subscriber
1, Basic knowledge
Topic -- asynchronous communication programming

An important bus used to transmit data between nodes;

use Publish / subscribe Model, the data is transmitted from the publisher to the subscriber, and the subscriber or publisher of the same topic can Not unique .

Message -- topic data

It has certain types and data structures, including standard types provided by ROS and user-defined types;
Use the programming language independent. msg file definition to generate the corresponding code file during compilation.

Service -- synchronous communication mechanism

Using the client / server (C/S) model, the client sends the request data, and the server returns the response data after processing;
The request and response data structures are defined by using the. srv file independent of the programming language, and the corresponding code files are generated during the compilation process.

Parameter -- global shared dictionary
Function package

The basic unit in ROS software, including node source code, configuration file, data definition, etc.

Package manifest

Record the basic information of the function package, including author information, license information, dependency options, compilation flags, etc.

Meta packages

Organize multiple function packages for the same purpose

ROS common commands (complete the commands with tab)

roscore ------ start ROSMaster
rosrun ------ run a node in the function package

//       Function package name a node in the function package  
$rosrun turtlesim turtlesim_node
       

rostopic

 //         10 times a second (frequency) topic name message data type
$rostopic pub -r 10 /turtle1/cmd_vel geometry_msgs/Twist "Message structure specific data" 
            
ros Speed in miles m/s,Angular velocity unit rad/s

rosservice

//The terminal can request a service as a client
$rosservice list

//Publish service request
$rosservice call/spawn "service content "

rosnode

$rosnode list //View all topic nodes. Note: / rosout is the ros default topic
$rosnode info /turtlesim //View the specific information of a node, such as which topics are published and which topics are subscribed to.

rosparam
rosmsg
rossrv
rqt_graph - visual tool to view the calculation diagram running in the system
rosbag

//Topic record
$rosbag record -a -O cmd_record

//Topic recurrence
$rosbag play cmd_record.bag
2, Workspaces and feature packs
Workspace:
src: code space
build: compile space
devel: development space
install: installation space
1. Create workspace
$mkdir -p ~/catkin_ws/src
$cd ~/catkin/src
$catkin_init_workspace
2. Compile workspace
$cd ~/catkin_ws/
$catkin_make

//When generating the install space
$catkin_make install
3. Set environment variables
$source devel/setup.bash
4. Check environment variables
$echo $ROS_PACKAGE_PATH
Feature Pack:
Note: the function package is the smallest unit to place the source code. You cannot directly place the source code in src.
1. Create function package
$cd ~/catkin_ws/src
$catkin_create_pkg test_pkg std_msgs rospy roscpp
2. Compile function package
$cd ~/catkin_ws
$catkin_make
$source ~/catkin_ws/devel/setup.bash
3, Programming implementation of publisher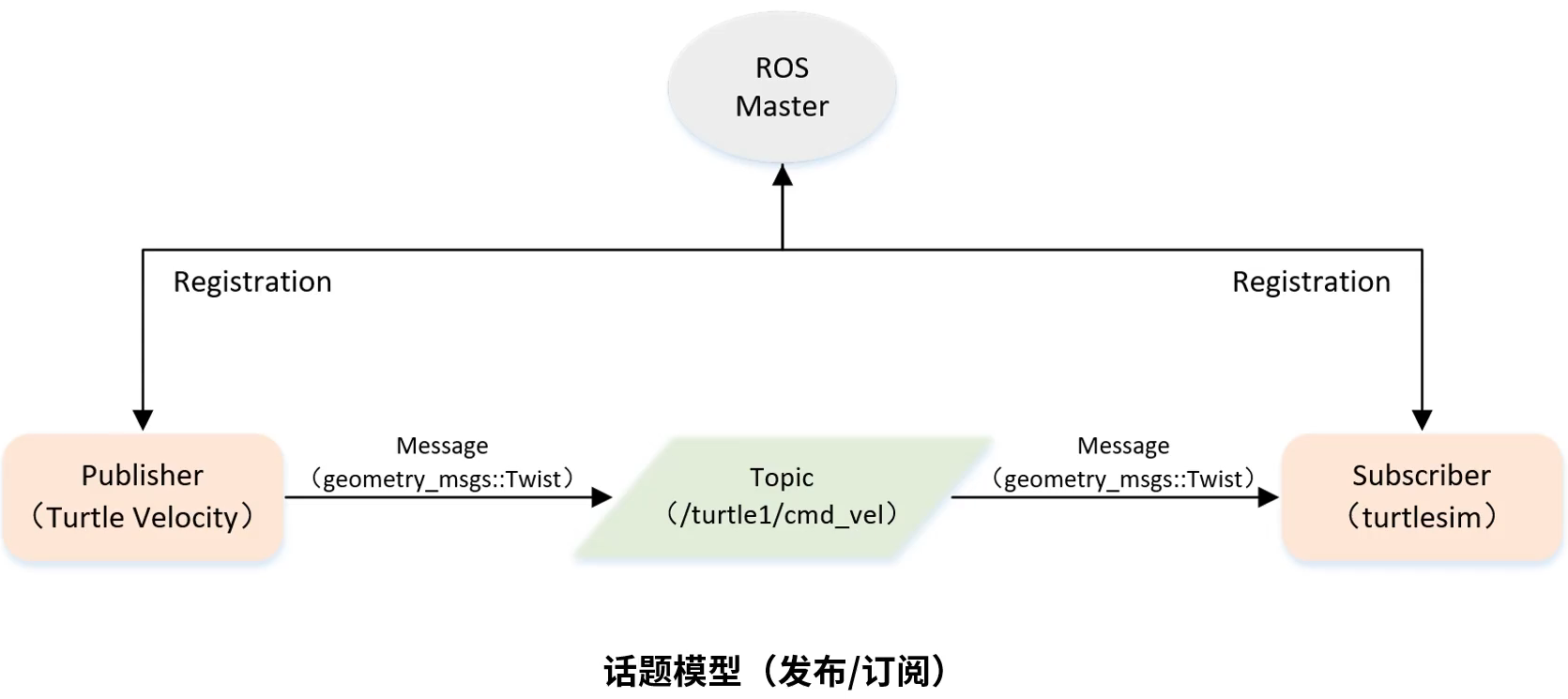 1. Create Feature Pack
$cd ~/catkin_ws/src
$catkin_create_pkg learning_topic rosscpp rospy std_msgs geometry_msgs turtlesim
2. Create publisher
Initialize ROS node
Register the node information with the ROS Master, including the published topic name and the message type in the topic
Create message data
Circularly publish messages at a certain frequency
Put the prepared publisher's source code in ~ / catkin_ws/src/learning_topic/src
 velocity_publisher.cpp
#include <ros/ros.h>
#include <geometry_msgs/Twist.h>

int main(int argc, char **argv)
{
	// ROS node initialization
	ros::init(argc, argv, "velocity_publisher");

	// Create node handle
	ros::NodeHandle n;

	// Create a Publisher with the publication name / turnle1 / CMD_ The topic of vel and the message type is geometry_msgs::Twist, queue length 10
	ros::Publisher turtle_vel_pub = n.advertise<geometry_msgs::Twist>("/turtle1/cmd_vel", 10);

	// Sets the frequency of the cycle
	ros::Rate loop_rate(10);

	int count = 0;
	while (ros::ok())
	{
	    // Initialize geometry_msgs::Twist type message
		geometry_msgs::Twist vel_msg;
		vel_msg.linear.x = 0.5;
		vel_msg.angular.z = 0.2;

	    // Release news
		turtle_vel_pub.publish(vel_msg);
		ROS_INFO("Publsh turtle velocity command[%0.2f m/s, %0.2f rad/s]", 
				vel_msg.linear.x, vel_msg.angular.z);

	    // Delay according to cycle frequency
	    loop_rate.sleep();
	}

	return 0;
}
Write Compilation Rules
Set the code to be compiled and the generated executable
Set up link library
CMakeLists.txt
#########
##build##
#########

add_executable(velocity_publisher src/velocity_publisher.cpp)
target_link_libraries(velocity_publisher ${catkin_LIBRARIES})
Compile and run publisher
$cd ~/catkin_ws
$catkin_make
//Environment variables must be set before executing the program
$source devel/setup.bash
$roscore
$rosrun turtlesim turtlesim_node
$rosrun learning_topic velocity_publisher
4, Programming implementation of subscriber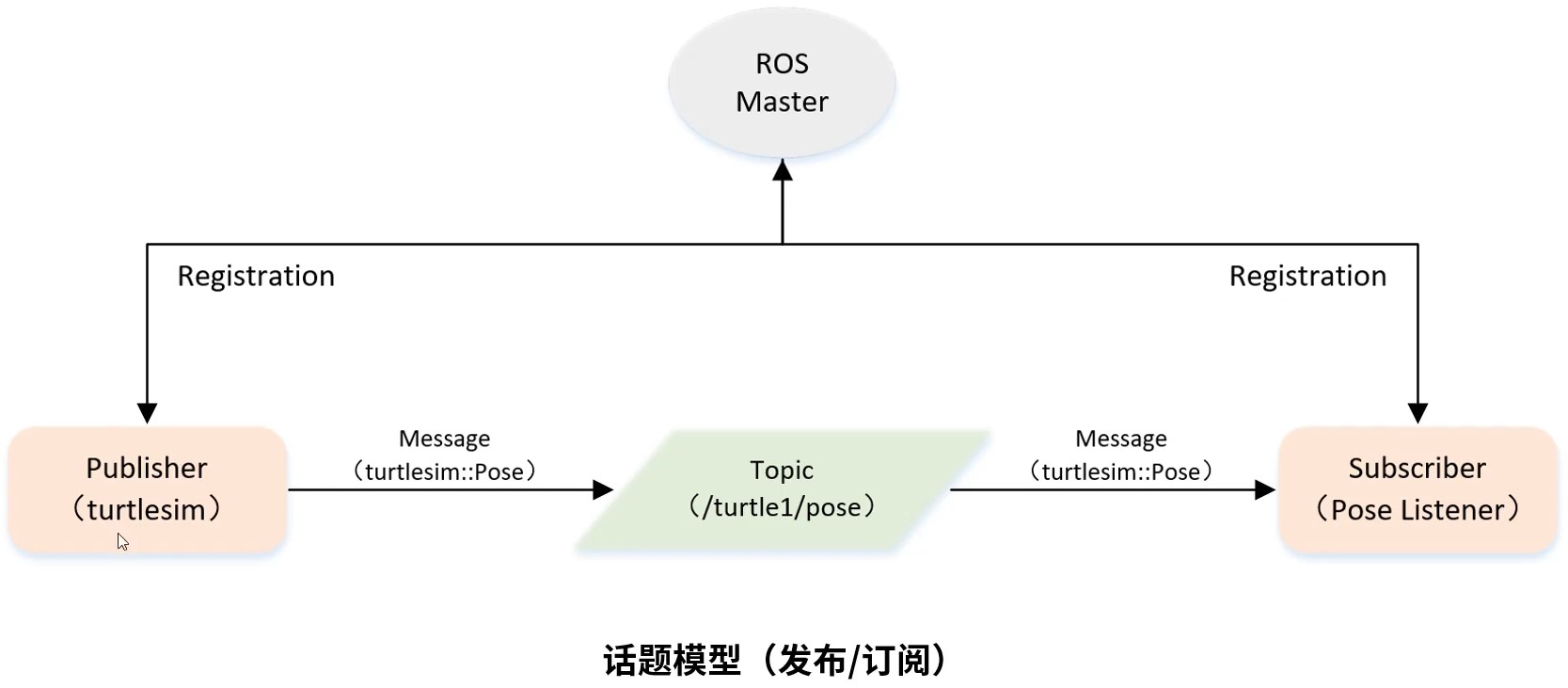 1. Implementation subscriber
Initialize ROS node
Subscribe to required topics
The loop waits for the topic message and enters the callback function after receiving the message
Complete message processing in callback function
pose_subscriber.cpp
/**
 * This routine will subscribe to / turnle1 / pose topic, and the message type is turnlesim:: pose
 */
 
#include <ros/ros.h>
#include "turtlesim/Pose.h"

// After receiving the subscribed message, it will enter the message callback function
void poseCallback(const turtlesim::Pose::ConstPtr& msg)
{
    // Print the received message
    ROS_INFO("Turtle pose: x:%0.6f, y:%0.6f", msg->x, msg->y);
}

int main(int argc, char **argv)
{
    // Initialize ROS node
    ros::init(argc, argv, "pose_subscriber");

    // Create node handle
    ros::NodeHandle n;

    // Create a Subscriber, subscribe to the topic named / turnle1 / pose, and register the callback function poseCallback
    ros::Subscriber pose_sub = n.subscribe("/turtle1/pose", 10, poseCallback);

    // Loop waiting callback function
    ros::spin();

    return 0;
}
Write Compilation Rules
CMakeLists.txt
#########
##build##
#########

add_executable(pose_subscriber src/pose_subscriber.cpp)
target_link_libraries(pose_subscriber ${catkin_LIBRARIES})
Compile and run publisher
$cd ~/catkin_ws
$catkin_make
//Environment variables must be set before executing the program
$source devel/setup.bash
$roscore
$rosrun turtlesim turtlesim_node
$rosrun learning_topic pose_subscriber