Main idea of the title:
Given a non-negative integer numRows, the first numRows row of Yang Hui triangle is generated.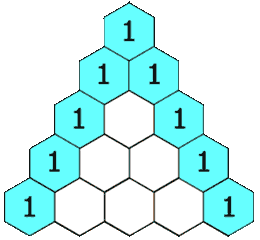 In Yang Hui triangle, each number is the sum of its upper left and upper right.
Example:

Input: 5
 Output:
[
     [1],
    [1,1],
   [1,2,1],
  [1,3,3,1],
 [1,4,6,4,1]
]
Train of thought:
The first step is to initialize the corresponding two-dimensional array according to the given numRows
In the second part, according to the rules of Yang Hui triangle, the corresponding number is filled. For each inner list, the element of res[i][j] is equal to the value of res[i-1][j-1] plus the value of res[i-1][j].
class Solution(object):
    def generate(self, numRows):
        """
        :type numRows: int
        :rtype: List[List[int]]
        """
        res=[]
        for i in range(numRows):#One row per cycle
            temp=[1]*(i+1)#Initialized to 1
            res.append(temp)
            for j in range(1,i):#column
                res[i][j]=res[i-1][j-1]+res[i-1][j]
        return res
The following is the Java version:
1.	public static List<List<Integer>> generate(int numRows){  
2.	        List<List<Integer>> s = new ArrayList<List<Integer>>();  
3.	        if(numRows == 0) return s;  
4.	        ArrayList<Integer> a = new ArrayList<Integer>();  
5.	        a.add(1);     
6.	        s.add(a);   //Note that the two-dimensional assignment problem cannot be directly added 1  
7.	        for(int i = 1; i < numRows; i++){  
8.	            List<Integer> t = new ArrayList<Integer>();  
9.	            t.add(1);  
10.	            for(int j = 1; j <= i - 1 ; j++){  
11.	                t.add(s.get(i - 1).get(j - 1) + s.get(i - 1).get(j));  
12.	            }  
13.	            t.add(1);  
14.	            s.add(t);  
15.	        }  
16.	        return s;  
17.	    }  

Test:
1.	public static void main(String[] args){  
2.	      
3.	        System.out.println(generate(5));  
4.	    }