install
Prepare k8s environment in advance and download Istio installation package , I use version 1.6.14 here, and the k8s version is v1.19.8
tar zxvf istio-1.6.14-linux-amd64.tar.gz
cd istio-1.6.14/
cp bin/istioctl /usr/bin

View a list of profiles for different installation modes
istioctl profile list

You can print the contents of the configuration file (optional)
istioctl profile dump [Profile name]

Configuration installation using demo mode
[root@ istio-1.6.14]# istioctl  manifest apply --set profile=demo
Detected that your cluster does not support third party JWT authentication. Falling back to less secure first party JWT. See https://istio.io/docs/ops/best-practices/security/#configure-third-party-service-account-tokens for details.
✔ Istio core installed                                                                                                
✔ Istiod installed                                                                                                    
✔ Ingress gateways installed                                                                                          
✔ Egress gateways installed                                                                                           
✔ Addons installed                                                                                                    
✔ Installation complete 

Verify that the installation was successful
[root@ istio-1.6.14]# kubectl get pod -n istio-system
NAME                                    READY   STATUS    RESTARTS   AGE
grafana-7647cf9c74-lvbhp                1/1     Running   0          6m51s
istio-egressgateway-6999674db4-tsm28    1/1     Running   0          6m55s
istio-ingressgateway-66757b946f-qqvms   1/1     Running   0          6m55s
istio-tracing-7fcc6f5848-n99wt          1/1     Running   0          6m50s
istiod-7c966f79c4-76zl2                 1/1     Running   0          7m38s
kiali-7f575d9c4c-ndlc6                  1/1     Running   0          6m50s
prometheus-fcbb8cbdd-vdm2v              2/2     Running   0          6m50s

Temporarily expose port 20001 in port forwarding mode and enter kiali interface
kubectl port-forward --address 0.0.0.0 kiali-7f575d9c4c-ndlc6 20001 -n istio-system

If you want to expose the port directly, set NodePort to expose the port
kubectl -n istio-system edit svc kiali

Change to the following figure
  ports:
  - name: http-kiali
    nodePort: 32660
    port: 20001
    protocol: TCP
    targetPort: 20001
  selector:
    app: kiali
  sessionAffinity: None
  type: NodePort
status:
  loadBalancer: {}

Other services installed in istio, such as grafana and Jaeger(tracing), can also be exposed in this way
kubectl -n istio-system get svc

Run the sample microservice Bookinfo
Bookinfo - online book store
Architecture diagram: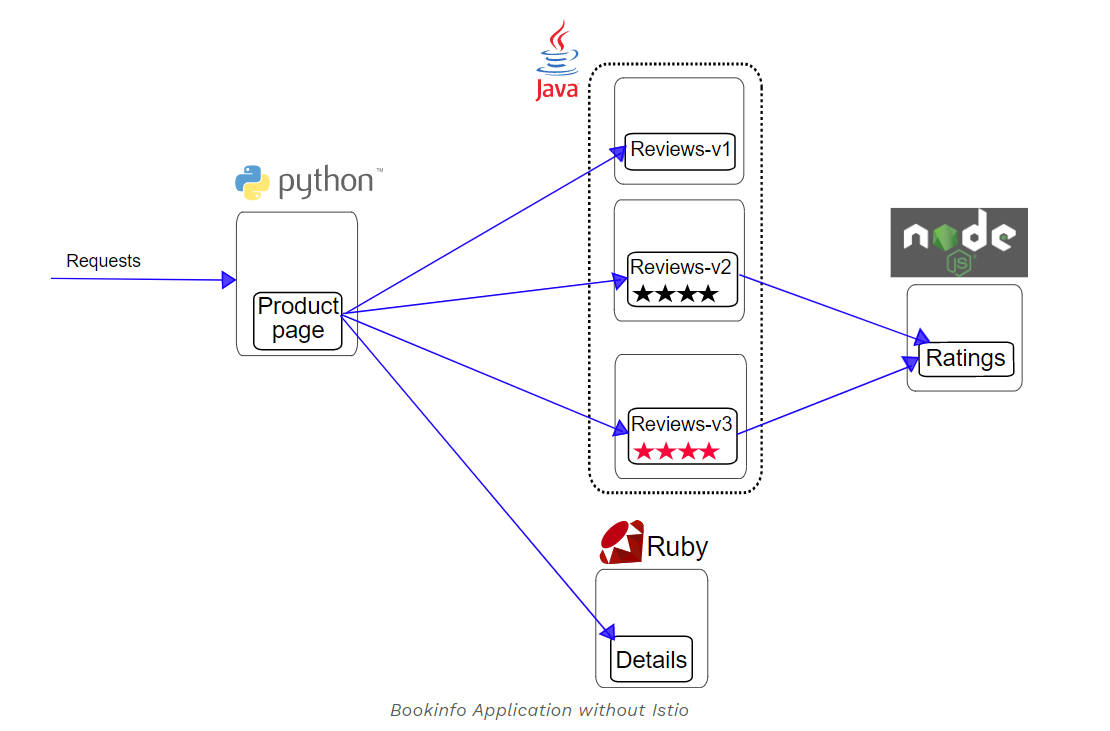 The Bookinfo application is divided into four separate microservices. These services do not depend on Istio, but constitute a representative service grid example: it is composed of services written in multiple languages, and one application will contain multiple versions.
productpage will call two microservices, details and reviews, to generate pages.
details contains information about books.
reviews contain comments about books. It also calls the ratings microservice.
ratings contains rating information composed of book reviews.
There are three versions of reviews microservice, which can be used to show different call links between services:
The v1 version does not call the ratings service.
v2 version will call the ratings service and use 1 to 5 Black Star icons to display the rating information.
The v3 version calls the ratings service and uses 1 to 5 Red Star icons to display rating information.
Create namespace
kubectl create ns bookinfo

Istio] by default, Sidecar is automatically injected and the bookinfo namespace is labeled istio injection = enabled:
kubectl label ns bookinfo istio-injection=enabled

Deployment Services
kubectl apply -f samples/bookinfo/platform/kube/bookinfo.yaml -n bookinfo

View pod
kubectl get po -n bookinfo

Deployment gateway
kubectl apply -f  samples/bookinfo/networking/bookinfo-gateway.yaml -n bookinfo

View exposed ports
kubectl get svc -n istio-system

Visit and you can see the page
http://Host ip: port / productpage

compression
for i in {1..100}; do curl -I http://Host ip: port / productpage/productpage; sleep 1; done

Then check kiali, grafana and Jaeger(tracing) and the data will appear. The default account password of kiali is admin