1, Foreword
As a programmer, you must be no stranger to IntelliJ IDEA! Maybe you haven't used it, but you must have heard of it. As recognized as the best java development tool in the industry, every major version update of IDEA has attracted much attention. Focus. IntelliJ IDEA 2019.3 has been released recently. I also upgraded from 2019.2 to 2019.3. To be honest, this upgrade experience is still very good. The most obvious point is that the starting speed has been greatly improved. Of course, there are other upgrades. I have to say, IDEA is really getting better and better. If you are a Java learner or developer, it is recommended that you convert or upgrade your IDE to IntelliJ IDEA 2019.3. After using the new version of IDEA, you will certainly have a different experience and greatly improve the coding speed.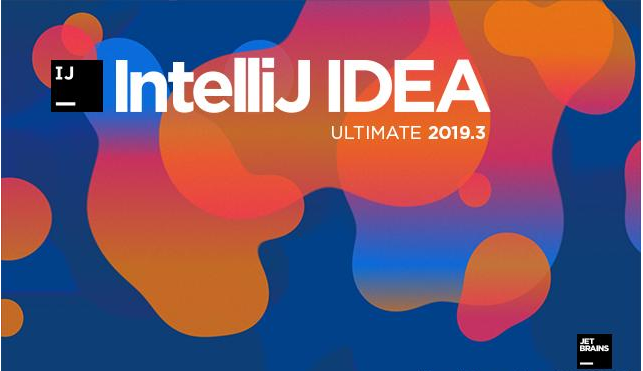 2, Download and install
Download from the official website. IDEA official website: https://www.jetbrains.com/idea/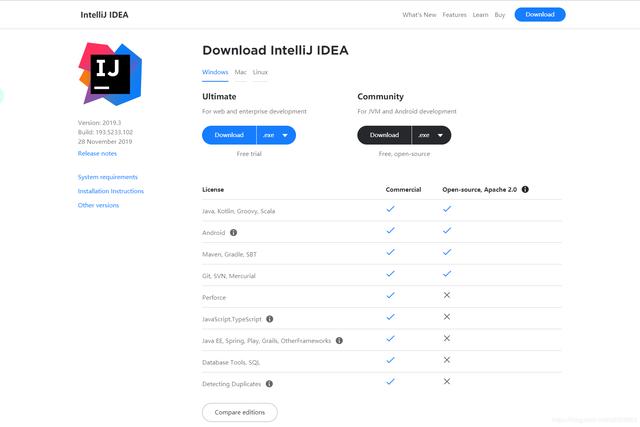 3, Registration activation
The following methods were tested on the latest 2019.3. As long as you install the following steps, it can be activated successfully. The operation steps are as follows:
1. First download the compressed package, unzip it, get jetbrains-agent.jar, and put it in the appropriate folder. For example: bin directory of idea installation directory: D:IntelliJ IDEA 2019.3.3bin
download
2. Start your ide. If you need to register, select evaluate for free to enter the IDE
3. Click the IDEA menu: "help" - > "Edit custom VM options..."
If prompted to create a file, click Yes.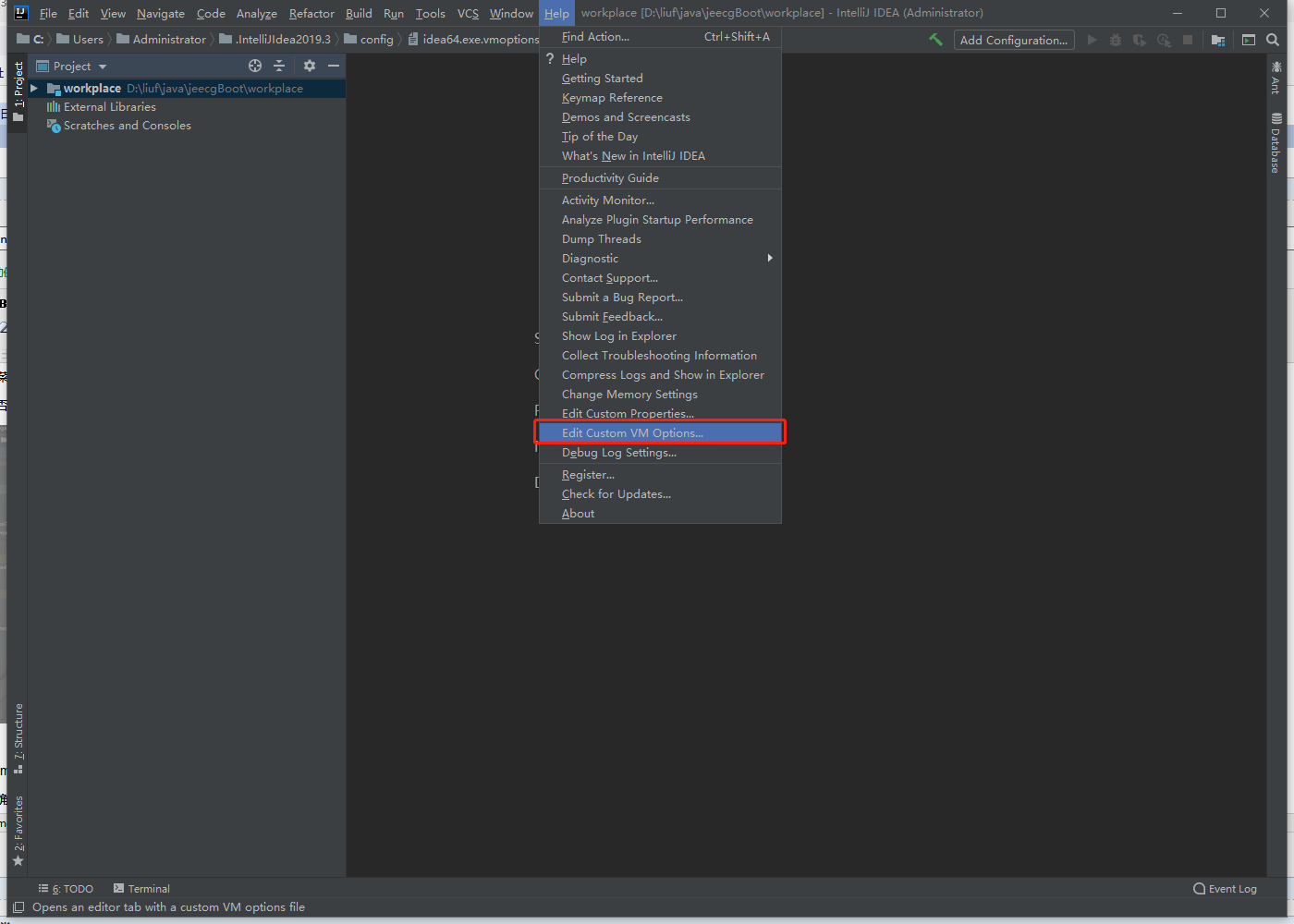 4. Add: - javaagent:/absolute/path/to/jetbrains-agent.jar at the end of the vmoptions editing window
Be sure to confirm the path yourself (do not use Chinese path). Filling in the wrong path will cause the IDE to not open!!! It is best to use absolute paths.
There can only be one - javaagent parameter in a vmoptions.
-javaagent:D:/liuf/java/IntelliJ IDEA 2019.3.3/bin/jetbrains-agent.jar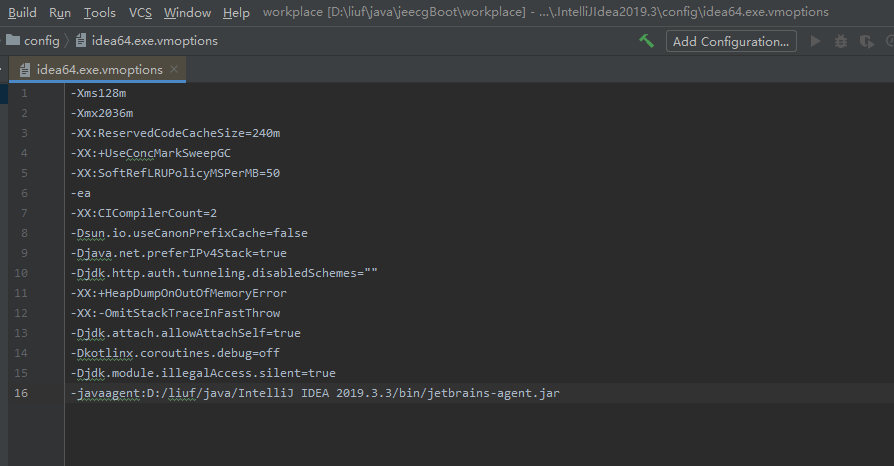 5. Restart your IDE.
6. Two registration methods are supported: License server and Activation code:
Select the License server method and fill in the address: http://jetbrains-license-server (it should be filled in automatically) (not used)
Or click the button: "Discover Server" to automatically fill in the address.
Select Activation code to activate offline. Please use: activation_ Activation of registration code in code.txt (recommended)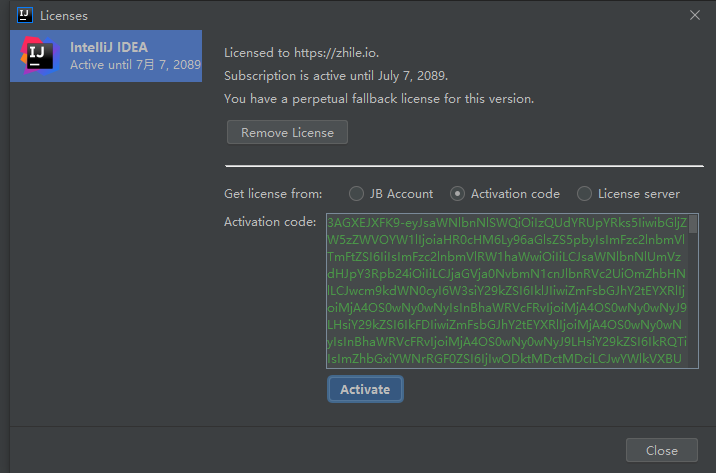 Registration code
3AGXEJXFK9-eyJsaWNlbnNlSWQiOiIzQUdYRUpYRks5IiwibGljZW5zZWVOYW1lIjoiaHR0cHM6Ly96aGlsZS5pbyIsImFzc2lnbmVlTmFtZSI6IiIsImFzc2lnbmVlRW1haWwiOiIiLCJsaWNlbnNlUmVzdHJpY3Rpb24iOiIiLCJjaGVja0NvbmN1cnJlbnRVc2UiOmZhbHNlLCJwcm9kdWN0cyI6W3siY29kZSI6IklJIiwiZmFsbGJhY2tEYXRlIjoiMjA4OS0wNy0wNyIsInBhaWRVcFRvIjoiMjA4OS0wNy0wNyJ9LHsiY29kZSI6IkFDIiwiZmFsbGJhY2tEYXRlIjoiMjA4OS0wNy0wNyIsInBhaWRVcFRvIjoiMjA4OS0wNy0wNyJ9LHsiY29kZSI6IkRQTiIsImZhbGxiYWNrRGF0ZSI6IjIwODktMDctMDciLCJwYWlkVXBUbyI6IjIwODktMDctMDcifSx7ImNvZGUiOiJQUyIsImZhbGxiYWNrRGF0ZSI6IjIwODktMDctMDciLCJwYWlkVXBUbyI6IjIwODktMDctMDcifSx7ImNvZGUiOiJHTyIsImZhbGxiYWNrRGF0ZSI6IjIwODktMDctMDciLCJwYWlkVXBUbyI6IjIwODktMDctMDcifSx7ImNvZGUiOiJETSIsImZhbGxiYWNrRGF0ZSI6IjIwODktMDctMDciLCJwYWlkVXBUbyI6IjIwODktMDctMDcifSx7ImNvZGUiOiJDTCIsImZhbGxiYWNrRGF0ZSI6IjIwODktMDctMDciLCJwYWlkVXBUbyI6IjIwODktMDctMDcifSx7ImNvZGUiOiJSUzAiLCJmYWxsYmFja0RhdGUiOiIyMDg5LTA3LTA3IiwicGFpZFVwVG8iOiIyMDg5LTA3LTA3In0seyJjb2RlIjoiUkMiLCJmYWxsYmFja0RhdGUiOiIyMDg5LTA3LTA3IiwicGFpZFVwVG8iOiIyMDg5LTA3LTA3In0seyJjb2RlIjoiUkQiLCJmYWxsYmFja0RhdGUiOiIyMDg5LTA3LTA3IiwicGFpZFVwVG8iOiIyMDg5LTA3LTA3In0seyJjb2RlIjoiUEMiLCJmYWxsYmFja0RhdGUiOiIyMDg5LTA3LTA3IiwicGFpZFVwVG8iOiIyMDg5LTA3LTA3In0seyJjb2RlIjoiUk0iLCJmYWxsYmFja0RhdGUiOiIyMDg5LTA3LTA3IiwicGFpZFVwVG8iOiIyMDg5LTA3LTA3In0seyJjb2RlIjoiV1MiLCJmYWxsYmFja0RhdGUiOiIyMDg5LTA3LTA3IiwicGFpZFVwVG8iOiIyMDg5LTA3LTA3In0seyJjb2RlIjoiREIiLCJmYWxsYmFja0RhdGUiOiIyMDg5LTA3LTA3IiwicGFpZFVwVG8iOiIyMDg5LTA3LTA3In0seyJjb2RlIjoiREMiLCJmYWxsYmFja0RhdGUiOiIyMDg5LTA3LTA3IiwicGFpZFVwVG8iOiIyMDg5LTA3LTA3In0seyJjb2RlIjoiUlNVIiwiZmFsbGJhY2tEYXRlIjoiMjA4OS0wNy0wNyIsInBhaWRVcFRvIjoiMjA4OS0wNy0wNyJ9XSwiaGFzaCI6IjEyNzk2ODc3LzAiLCJncmFjZVBlcmlvZERheXMiOjcsImF1dG9Qcm9sb25nYXRlZCI6ZmFsc2UsImlzQXV0b1Byb2xvbmdhdGVkIjpmYWxzZX0=-WGTHs6XpDhr+uumvbwQPOdlxWnQwgnGaL4eRnlpGKApEEkJyYvNEuPWBSrQkPmVpim/8Sab6HV04Dw3IzkJT0yTc29sPEXBf69+7y6Jv718FaJu4MWfsAk/ZGtNIUOczUQ0iGKKnSSsfQ/3UoMv0q/yJcfvj+me5Zd/gfaisCCMUaGjB/lWIPpEPzblDtVJbRexB1MALrLCEoDv3ujcPAZ7xWb54DiZwjYhQvQ+CvpNNF2jeTku7lbm5v+BoDsdeRq7YBt9ANLUKPr2DahcaZ4gctpHZXhG96IyKx232jYq9jQrFDbQMtVr3E+GsCekMEWSD

//

dLT+HuZdc1sAIYrw==-MIIElTCCAn2gAwIBAgIBCTANBgkqhkiG9w0BAQsFADAYMRYwFAYDVQQDDA1KZXRQcm9maWxlIENBMB4XDTE4MTEwMTEyMjk0NloXDTIwMTEwMjEyMjk0NlowaDELMAkGA1UEBhMCQ1oxDjAMBgNVBAgMBU51c2xlMQ8wDQYDVQQHDAZQcmFndWUxGTAXBgNVBAoMEEpldEJyYWlucyBzLnIuby4xHTAbBgNVBAMMFHByb2QzeS1mcm9tLTIwMTgxMTAxMIIBIjANBgkqhkiG9w0BAQEFAAOCAQ8AMIIBCgKCAQEA5ndaik1GD0nyTdqkZgURQZGW+RGxCdBITPXIwpjhhaD0SXGa4XSZBEBoiPdY6XV6pOfUJeyfi9dXsY4MmT0D+sKoST3rSw96xaf9FXPvOjn4prMTdj3Ji3CyQrGWeQU2nzYqFrp1QYNLAbaViHRKuJrYHI6GCvqCbJe0LQ8qqUiVMA9wG/PQwScpNmTF9Kp2Iej+Z5OUxF33zzm+vg/nYV31HLF7fJUAplI/1nM+ZG8K+AXWgYKChtknl3sW9PCQa3a3imPL9GVToUNxc0wcuTil8mqveWcSQCHYxsIaUajWLpFzoO2AhK4mfYBSStAqEjoXRTuj17mo8Q6M2SHOcwIDAQABo4GZMIGWMAkGA1UdEwQCMAAwHQYDVR0OBBYEFGEpG9oZGcfLMGNBkY7SgHiMGgTcMEgGA1UdIwRBMD+AFKOetkhnQhI2Qb1t4Lm0oFKLl/GzoRykGjAYMRYwFAYDVQQDDA1KZXRQcm9maWxlIENBggkA0myxg7KDeeEwEwYDVR0lBAwwCgYIKwYBBQUHAwEwCwYDVR0PBAQDAgWgMA0GCSqGSIb3DQEBCwUAA4ICAQBonMu8oa3vmNAa4RQP8gPGlX3SQaA3WCRUAj6Zrlk8AesKV1YSkh5D2l+yUk6njysgzfr1bIR5xF8eup5xXc4/G7NtVYRSMvrd6rfQcHOyK5UFJLm+8utmyMIDrZOzLQuTsT8NxFpbCVCfV5wNRu4rChrCuArYVGaKbmp9ymkw1PU6+HoO5i2wU3ikTmRv8IRjrlSStyNzXpnPTwt7bja19ousk56r40SmlmC04GdDHErr0ei2UbjUua5kw71Qn9g02tL9fERI2sSRjQrvPbn9INwRWl5+k05mlKekbtbu2ev2woJFZK4WEXAd/GaAdeZZdumv8T2idDFL7cAirJwcrbfpawPeXr52oKTPnXfi0l5+g9Gnt/wfiXCrPElX6ycTR6iL3GC2VR4jTz6YatT4Ntz59/THOT7NJQhr6AyLkhhJCdkzE2cob/KouVp4ivV7Q3Fc6HX7eepHAAF/DpxwgOrg9smX6coXLgfp0b1RU2u/tUNID04rpNxTMueTtrT8WSskqvaJd3RH8r7cnRj6Y2hltkja82HlpDURDxDTRvv+krbwMr26SB/40BjpMUrDRCeKuiBahC0DCoU/4+ze1l94wVUhdkCfL0GpJrMSCDEK+XEurU18Hb7WT+ThXbkdl6VpFdHsRvqAnhR2g4b+Qzgidmuky5NUZVfEaZqV/g==
Basically, just follow this step. If you used this kind of crack before, but it doesn't work now, maybe your crack jar needs to be updated. The jar in this link is the latest and supports 2019.3 version cracking