How to use Jdbc and Servlet to operate Mysql database and write Android login server?
1. Download and install Tomcat server
2. Open eclipse and choose Java EE mode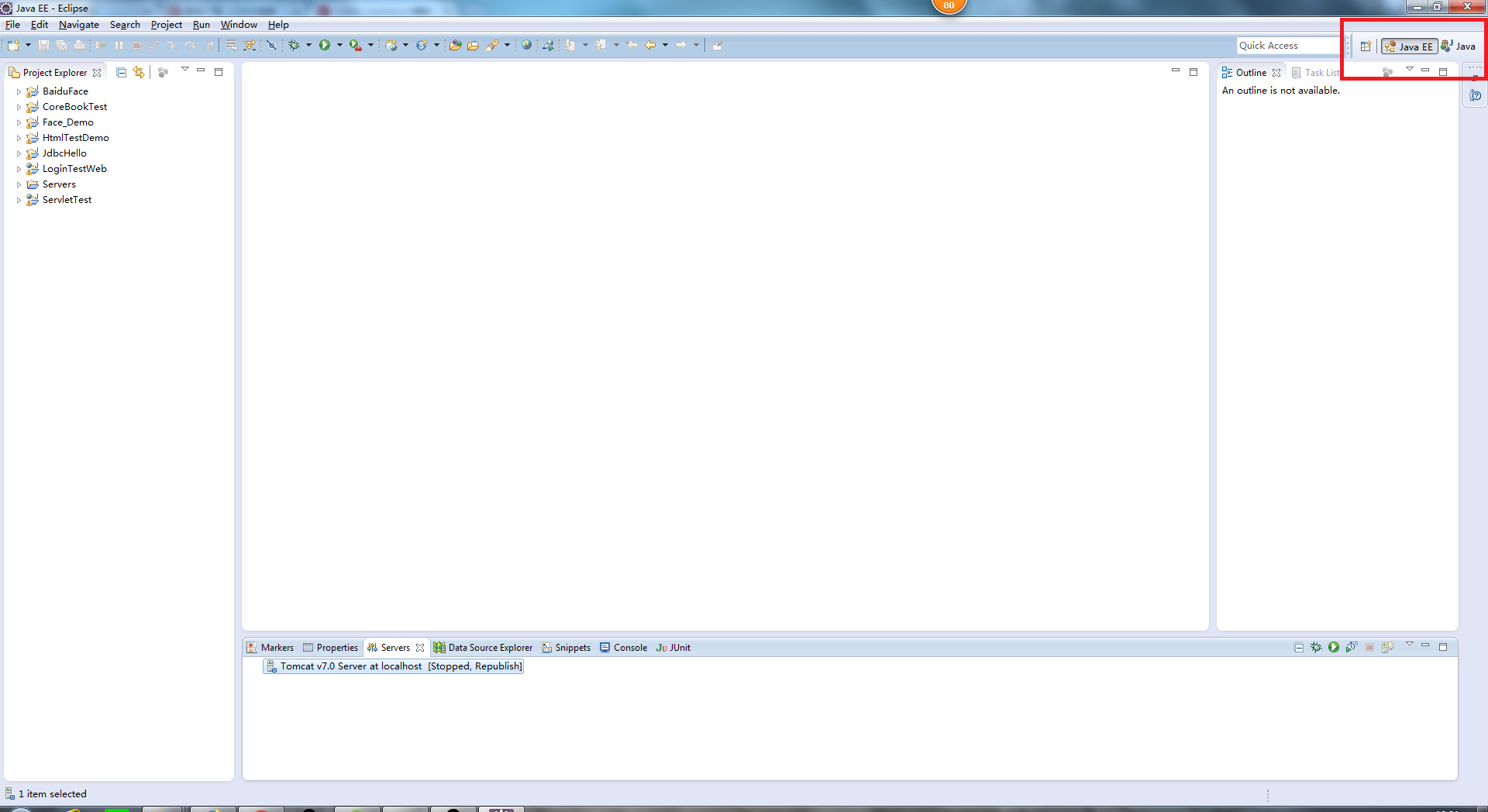 3. Configure Servers
1. Click on the blue word in the bottom configuration box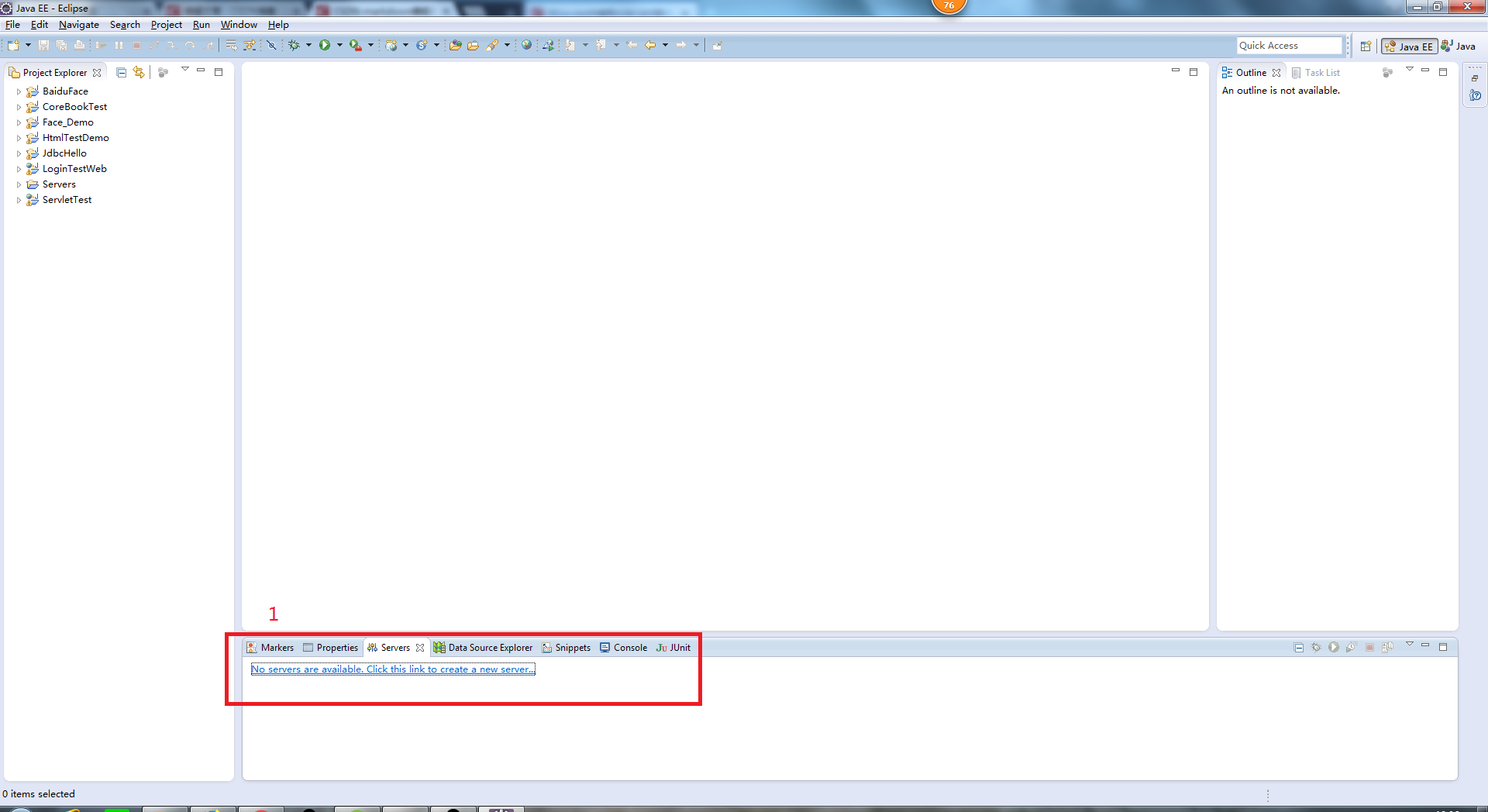 (2) Select the corresponding versions of Apache and Tomcat in the server type
(3) Add Server runtime environment
(4) Choose the download decompressed Tomcat path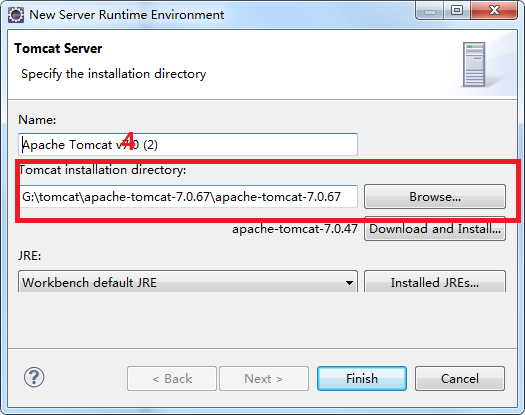 Configure Server Locations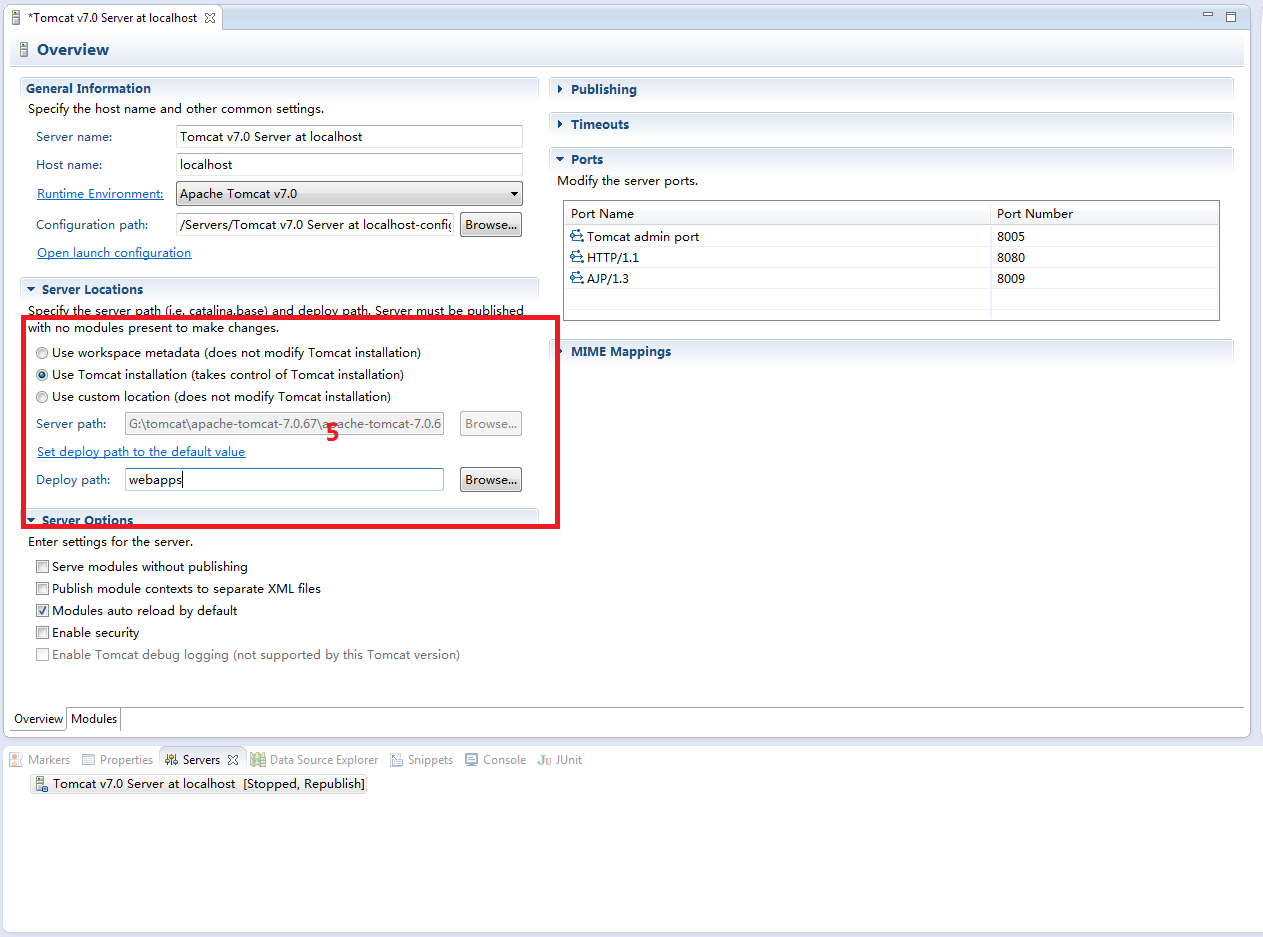 4. Create a new dynamic web project and check GenerateWeb.xmlDeployment descriptor option.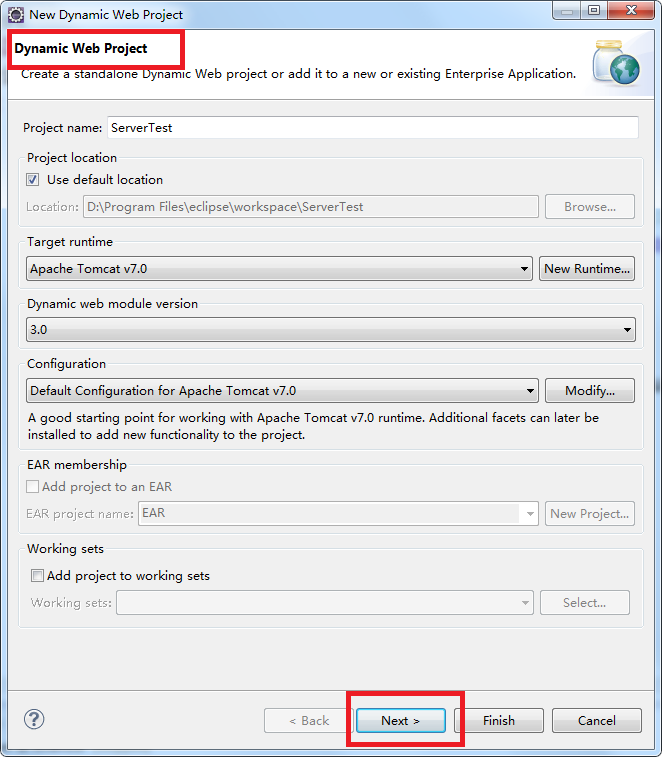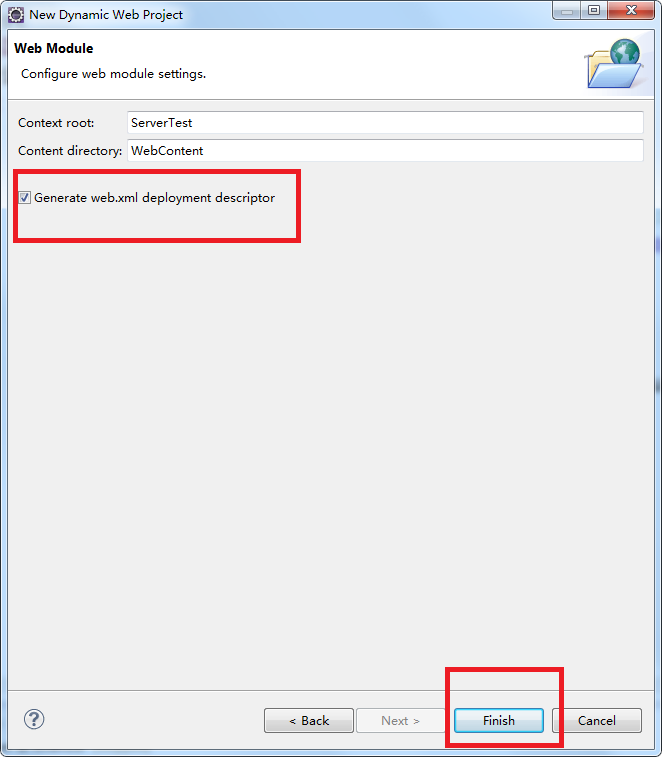 6. Write database operation code
package

 com.scong.db;



import

 java.sql.Connection;


import

 java.sql.DriverManager;


import

 java.sql.ResultSet;


import

 java.sql.SQLException;


import

 java.sql.Statement;



import

 org.junit.Test;



import

 com.mysql.jdbc.Driver;



public

 

class

 

JdbcHello

 {

    

private

 ResultSet resultSet;
    

private

 Statement statement;
    

private

 Connection connection;

    

@Test


    

public

 String[] 

loginStrings

(){
    String[] nameStrings=

new

 String[

100

];
    

int

 i=

0

;
        

//Register Driver Register mysql Driver


        

try

 {
            DriverManager.registerDriver(

new

 Driver());
            

//Address of MySQL server jdbc: subprotocol (mysql): //server ip address: port (default 3306)/database name


            String url=

"jdbc:mysql://xxx.xxx.xxx.xxx:3306/login"

;
            

//User name to access mysql server


            String username=

"root"

;
            

//Password to access mysql server


            String password=

"123456"

;
            connection = DriverManager.getConnection(url,username, password);
            statement = connection.createStatement();
            String sql=

"select * from user;"

;
            resultSet = statement.executeQuery(sql);
            

//Call the next() method to move the cursor to the next line


            

while

(resultSet.next()){
                String name=resultSet.getString(

1

);
                String pwString=resultSet.getString(

2

);
                

//System.out.println(name);


                nameStrings[i]=name+

"##"

+pwString;
                i++;
            }
            

//return nameStrings;


        } 

catch

 (SQLException e) {
            

// TODO Auto-generated catch block


            e.printStackTrace();
        }

finally

{  

//Close Connection


            

try

 {
                resultSet.close();
            } 

catch

 (SQLException e) {
                

// TODO Auto-generated catch block


                e.printStackTrace();
            }
            

try

 {
                statement.close();
            } 

catch

 (SQLException e) {
                

// TODO Auto-generated catch block


                e.printStackTrace();
            }
            

try

 {
                connection.close();
            } 

catch

 (SQLException e) {
                

// TODO Auto-generated catch block


                e.printStackTrace();
            }
        }
        

return

 nameStrings;
    }

}

7. Create a new servlet class and write the server-side login code
package

 com.scong.servlet;



import

 java.io.IOException;


import

 java.io.PrintWriter;



import

 javax.servlet.ServletException;


import

 javax.servlet.annotation.WebServlet;


import

 javax.servlet.http.HttpServlet;


import

 javax.servlet.http.HttpServletRequest;


import

 javax.servlet.http.HttpServletResponse;



import

 com.scong.db.JdbcHello;



/**
 * Servlet implementation class LoginTest
 */




@WebServlet

(

"/LoginTest"

)


public

 

class

 

LoginTest

 

extends

 

HttpServlet

 {
    

private

 

static

 

final

 

long

 serialVersionUID = 

1

L;

    /**
     *

 @see

 HttpServlet#HttpServlet()
     */
    

public

 

LoginTest

() {
        

super

();
        

// TODO Auto-generated constructor stub


    }

    /**
     *

 @see

 HttpServlet#doGet(HttpServletRequest request, HttpServletResponse
     *      response)
     */
    

protected

 

void

 

doGet

(HttpServletRequest request,
            HttpServletResponse response) 

throws

 ServletException, IOException {
        

// TODO Auto-generated method stub


        String usernameString = request.getParameter(

"username"

);
        String passwordString = request.getParameter(

"password"

);
        JdbcHello jdbcHello = 

new

 JdbcHello();
        String[] name = jdbcHello.loginStrings();
        PrintWriter writer = response.getWriter();
        

if

 (usernameString == 

null

 || passwordString == 

null


                || usernameString.length() == 

0

 || passwordString.length() == 

0

) {
            writer.print(

"false!"

);
        } 

else

 {
            

int

 i = 

0

;
            String temp = usernameString + 

"##"

 + passwordString;

            

for

 (i = 

0

; i < name.length; i++) {

                

if

 (temp.equals(name[i])) {
                    writer.print(

"true"

);                   
                    

break

;
                }
            }
            

if

 (i == name.length) {
                writer.print(

"login false!"

);
            }

        }

    }

    /**
     *

 @see

 HttpServlet#doPost(HttpServletRequest request, HttpServletResponse
     *      response)
     */
    

protected

 

void

 

doPost

(HttpServletRequest request,
            HttpServletResponse response) 

throws

 ServletException, IOException {
        

// TODO Auto-generated method stub


    }

}

8. ConfigurationWeb.xmlfile
<?xml version="1.0" encoding="UTF-8"?>


<

web-app

 

xmlns:xsi

=

"http://www.w3.org/2001/XMLSchema-instance"

 

xmlns

=

"http://java.sun.com/xml/ns/javaee"

 

xsi:schemaLocation

=

"http://java.sun.com/xml/ns/javaee http://java.sun.com/xml/ns/javaee/web-app_3_0.xsd"

 

id

=

"WebApp_ID"

 

version

=

"3.0"

>
  <

display-name

>ServerTest</

display-name

>
  <

welcome-file-list

>
    <

welcome-file

>index.html</

welcome-file

>
    <

welcome-file

>index.htm</

welcome-file

>
    <

welcome-file

>index.jsp</

welcome-file

>
    <

welcome-file

>default.html</

welcome-file

>
    <

welcome-file

>default.htm</

welcome-file

>
    <

welcome-file

>default.jsp</

welcome-file

>
  </

welcome-file-list

>
  <

servlet

>
    <

servlet-name

>login</

servlet-name

>
    <

servlet-class

>com.scong.servlet.LoginTest</

servlet-class

>
  </

servlet

>
  <

servlet-mapping

>
    <

servlet-name

>login</

servlet-name

>
    <

url-pattern

>/login</

url-pattern

>
  </

servlet-mapping

>
</

web-app

>