Paired Development Team Members: Zhao Ziming and Zhou Baohui
Design ideas:
The program involves the jsp javabean structure in the simple mvc framework, which writes the classes of integers and fractionals into entity package in src, and writes some operations about database into sql package; JSP has three interfaces, the first one is to select some simple parameters, such as integers or fractions, the range of the data, and calculate The number of expression operators, the number of formula subclasses, etc.) pass these parameters to the second jsp. In the second jsp, the user input parameters are obtained, and the corresponding arithmetic questions are generated. In the third jsp, the right and wrong are judged. In the jsp, the classes in the package are called, and the fractional integer classes in. java are directly used. In some database operations, too. It directly calls the functions in the encapsulated sql package to connect the database and insert data.
Among them, the calculation of arithmetic is realized recursively, such as the calculation of three numbers, which can be first calculated into the calculation of two numbers, thus the result of the calculation can be realized recursively.
Source code:
entity package
Fenshu.java
Fenshude.java
Panduan.java
Suan.java
sql package
Sql.java
jsp
index.jsp
judge.jsp
select.jsp
Operating results screenshot: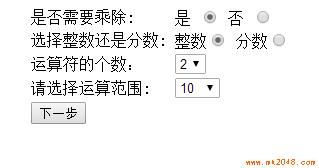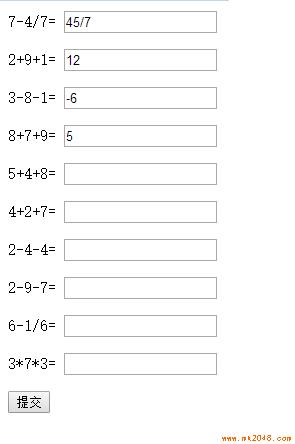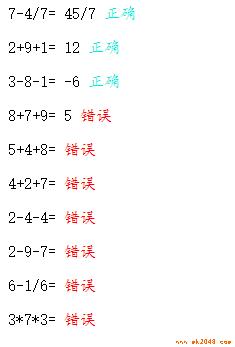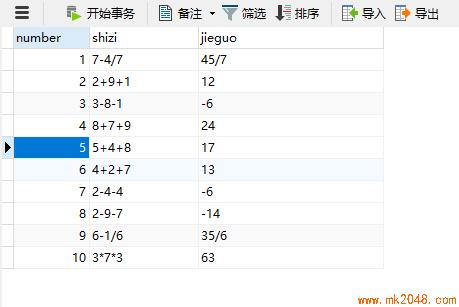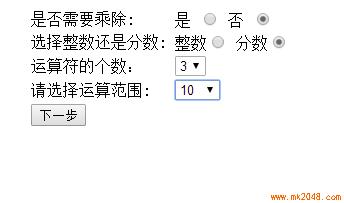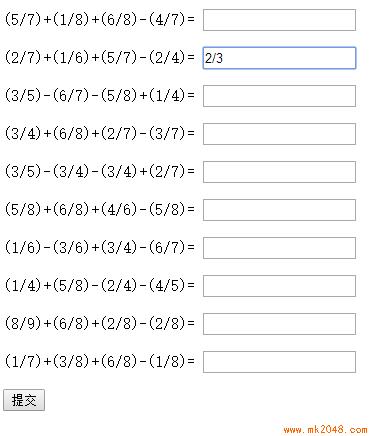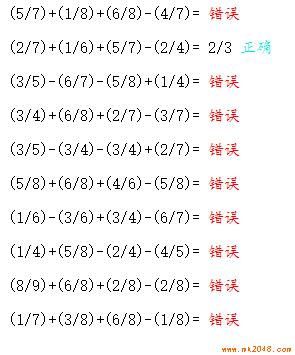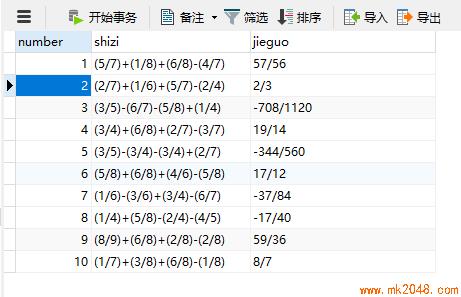 Summary experience:
Firstly, because there are many requirements for topics, it is very important to design ideas before programming, encapsulating them into classes, and some corresponding functions should be written into functions so that they can be flexibly invoked later. The process of calculating results is based on recursive method. Here is the rule of each calculation. Laws, find a similar place, in the implementation of recursive functions, at first there is always no result, but later found that there is no return value, so the return value in recursion is also very important; in the connection of the database, we need to pay attention to the configuration of jdbc. jar file, otherwise the database will fail to drive (it is easy to omit); in jsp, the return value is also very important. When using the loop structure generators, because we need to leave out the text box of the answer questions, we need to pay attention to each output formula in the loop, and output a text box accordingly. The main answer here is convenient, which makes the interface more beautiful and operable. Type conversion is involved in the process of transferring parameters in jsp, and we need to pay attention to it. Using javabean to encapsulate classes makes the idea clear and the structure clear. Most of the statements implemented by java code are written in. Java files. In. JSP files, the main parameters and interface design make the idea more logical.
psp table